Canadian Dreams at Ranchland (Part 1 of 3)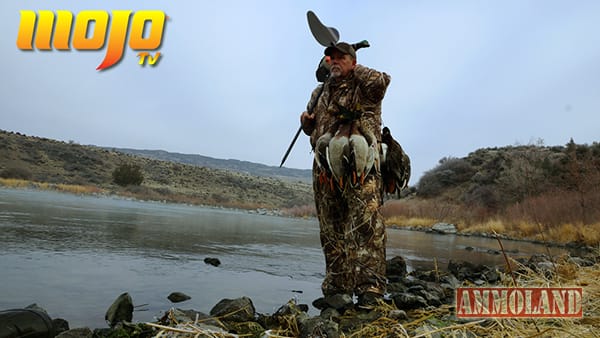 Monroe, LA -(Ammoland.com)- Terry and a "flock" of his Mojo Mallards head to Canada for 7 days to hunt with Rob Reynolds of Ranchland Outfitters.
Though the temperatures are cold, the hunting is hot. This year the action is as good as it gets as Mallard drakes flood into the spinning wing decoys hunt after hunt (PART 1 of 3). Also, the wildly popular Hannah Hughes and Kaylee Patrick of the Hannah & Kaylee Show make a special appearance with a weekly (and hilarious) "Hunting Tip!" You won't want to miss this episode!
New episodes premiere Saturdays at 3:30 pm ET on The Sportsman Channel.
Starting this Saturday (7/19), Mojo will bring to you some of the zany hunting tips from our special friend and Louisiana duck hunting guide Hannah Hughes. Hannah along with her good friend Kaylee Patrick have become Facebook and YouTube sensations with their wildly popular Hannah & Kaylee Show. These girls love to laugh and whether it's their combination of Cajun-Redneck-Hillbilly upbringing that make them so loveable or just the sight of a couple of pretty ole country girls in a set of muddy waders that trips your trigger, you'll want to catch them on a weekly basis.
Here's a clip of one of their crazy videos:
You can also go to the MOJO web site at MojoOutdoors to keep up with these two and the times and dates that they will be on the show.
About MOJO TV
The Show is hosted by professional hunter and long time TV personality, Terry Denmon, and co-hosted by Outdoor TV and Video Pioneer, Mike Morgan, and MOJO's General Manager, Chuck Smart. The MOJO Team takes you around the world on exciting waterfowl, predator, turkey, and big game hunts with a style that brings the "Magic" of MOJO to the screen.