By Tom Claycomb III
Idaho – -(Ammoland.com)- Theoretically you will need three knives to skin out big game.
First you'll need a knife with a clip point to cut the pattern and then one with a drop point to do the actual skinning.
Do you have to have both? No, I've skinned over 100 deer with a fold-up knife, it's just that if you're saving the hide, you'll cut less holes when using a drop point skinning knife.
So let's start with what you'll want to mark the pattern. I prefer a 3 ½-inch foldup or a straight blade knife not over 5-6 inches so I can easily control them. I have never liked a serrated edge but while testing the Xtreme Series V by Knives of Alaska (KOA) on a Texas deer hunt I changed my mind. It ripped through the sternum cage like hot butter.
If you're saving the hide then you'll want a skinning knife with a drop point. I don't care for anything over 6-inches with four being better. With a drop point you're less likely to cut through the skin. You don't have to have one but you can work faster and be less cautious if you do. All of the good skinning knives will have somewhere around a 1 ½-inch wide blade.
To skin out the feet on bears or for caping out heads a caping knife works best. As kids when we were trapping we used a small pocket knife which I guess in all actuality was a predecessor to the modern day caping knife.
For a caping knife you don't want a blade over three inches. It will have a narrow blade so you can work around the eyes and lips or to skin out the feet on your bears.
My favorite skinning knives?
Diamond Blade Traditional Hunter. It is the ultimate skinning knife (read pricey). The spine has been ground down to a point so that you can mark the pattern and yet it has a nice rounded cutting edge for skinning. Shop Diamond Blade Traditional Hunter here.
Diamond Blade Summit foldup. If you favor a foldup knife then this is it. The blade is almost identical to the above knife but in the foldup style. Shop: Diamond Blade Summit Folder here.
Puma SGB foldups. Puma SGB offers a lot of nice designs in their foldup models. They work great for marking the pattern. I've got numerous fold-ups in the Puma SGB line. I recommend using any of their knives with blades around 3 ½-inches. Shop for PUMA 3 1/2″ SGB Ranger Folding Knife here: ( http://tiny.cc/ibzvjx )
Caping Knives. The Knives of Alaska Cub Bear Knife Model ( http://tiny.cc/tkzvjx ) . This is a nice little caping knife. I've also got to mention checking out some of the KOA kits that include a caping knife.
KOA owns the market on knife kits ( http://tiny.cc/fpzvjx ) .
Also check out the Puma SGB Skinner  ( http://tiny.cc/zszvjx ) or the KOA Proghorn for some good clip point knives. I also like the KOA Elk Hunter ( http://tiny.cc/b0zvjx ) .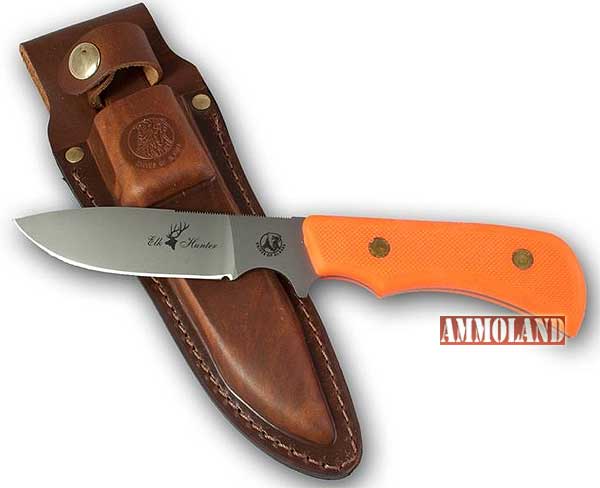 Are there other good, functional knives on the market? Sure there are. The above list has my favorite go-to knives though. If you choose to pick another brand, just make sure that you get ones designed like the above mentioned knives. There are a lot of non-functional designs on the market.
Boning Knives
Let's finish on what knife you'll want to use to bone your animal after you've skinned it. You'll want a 6-inch boning knife. There are a handful of good boning knives on the market with Forschner and Don't Tread on Me popping up first in my mind. Whichever boning knife that you decide to go with, make sure that the blade is designed exactly like a Forschner 6″ Boning Knife ( http://tiny.cc/m5zvjx ).
For dexterity and ease in handling I prefer a wood handled knife like the Don't Tread on Me ( http://tiny.cc/0r0vjx) has. Years ago they all utilized wood handles but due to selling meat to the European Economic Community plastic was demanded. But plastic is not the best handling handle. Try the old wood handled knives once and you'll love them.
About Tom Claycomb
Tom Claycomb has been an avid hunter/fisherman throughout his life as well as an outdoors writer with outdoor columns in the magazine Hunt Alaska, Bass Pro Shops, Bowhunter.net and freelances for numerous magazines.
(To properly skin you animal you will need a sharp knife. I have an e-article on Amazon Kindle titled KNIFE SHARPENING ( http://tiny.cc/5ixvjx ) for $.99 if you're having trouble).