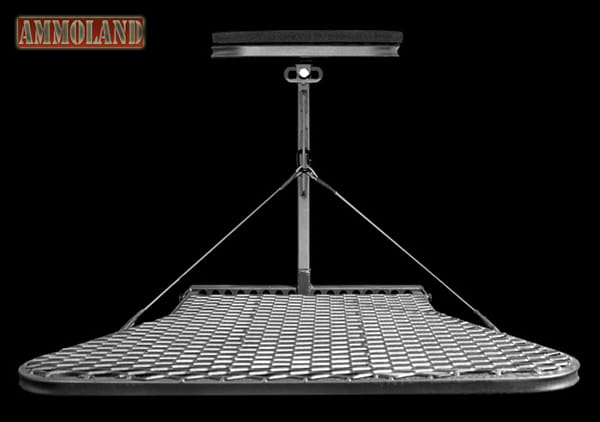 Mountain Lake, MN -(Ammoland.com)- Twisted Timber Treestands is pleased to announce a new partnership with Relentless Pursuit TV and the Wells Family.
"Once we hung the first stand, we knew that this company was on to something that hunters needed, heck we needed it," said Tim Wells. "Twisted Timber is making waves in the industry not only with their one-of-kind versatile design but by their strategic partnerships. We are glad to be part of the Twisted Timber Family."
Co-owner and designer of Twisted Timber Treestands, Curt Fast, explained, "We are very excited to be partnering with Relentless Pursuit and the Wells family. They have a huge following as well as the whole family is dedicated bowhunters. We have designed stands not only for the big guy, but for ladies and youth with smaller frames. We want to put all hunters in the kill-zone."
Get ready for another hard hitting season of America's number one bowhunting show, Relentless Pursuit. Join in as Tim Wells releases episode after episode featuring incredible shots on everything from hogs to frogs. You'll see stars from the NFL like Jared Allen, Boomer Grigsby, and Bill Schrader. As a bonus Tim will be spear hunting some of the planet's most elusive beasts. Who will get it first, man or beast? Watch Relentless Pursuit to find out whose next! You won't want to miss a single episode of Relentless Pursuit!
Relentless Pursuit TV airs on the Sportsmans Channel Fridays 8:30pm and 11:30pm, Wednesdays 9:30am. See more of Relentless Pursuit at Tim Wells Bowhunter or on Facebook.
T3 Triple Axis Leveling Technology of Twisted Timber Treestands allows hunters to choose any tree to hang their stand. Now you can level your stand Horizontally, Vertically, or Laterally.
How often have you found the perfect pinch point in a river bottom or fence row only to find there isn't a straight tree anywhere??
Twisted Timber's most unique feature is the T3 Triple Axis Leveling technology. This design technology is not available on any other stand on the market offers. The extreme platform leveling design provides you with 7" of vertical adjustment. Twisted Timber Treestands are designed with the first and original non-screwing easy hang system. This J-Hook system also allows you to place multiple hooks in your favorite spots to allow easy adaptability in the field with horizontal rotation. The adjustable Safe-T mounting system on the base allows for lateral adjustment for off-center stand placement with rock-solid security that no other stand on the market can offer. On top of all that, Oilite Brass bushings keep your stand lubed and quiet all seasons of the year.
Quiet, Sturdy, Adaptable, Versatile- Twisted Timber Treestands- "Hunt where you need to!"
Visit us at our new and improved website Twisted Timber Treestands.
About Twisted Timber Treestands (T3)
Here at Twisted Timber Treestands we would like to take your hunting experience to the next level. We feel that we can do this for you by providing a treestand that will adapt to the situation that you are given. If you find that perfect spot in the woods, however it provides little or no opportunity to hang your existing treestand, the T3 (Twisted Timber Treestands) Triple-Axis Leveling Technology will take that experience to the next level by allowing you to choose that very spot. The Triple-Axis Technology gives you the opportunity to hang the stand where you need to be, whether the tree is crooked or straight. So, the next time you're in the woods make sure you have a Twisted Timber to make the most out of your opportunity to be as successful and comfortable no matter what the situation.