By Justin Stakes
Rancho Cucamonga, CA -(Ammoland.com)- Uberti is amongst the few unique companies that reproduce finely crafted, and detailed armaments when it comes to historical firearm replicas.
A handful of the revolvers and rifles that are seen being used by shooting enthusiasts throughout the Cowboy Action Shooting competitions are often detailed and modernized replicas of Civil War-Era firearms. A standard that was set by the Italy based company; Uberti, and their vintage inspired black powder revolvers, cartridge revolvers and cartridge rifles.
While Uberti manufactures and produces vintage style armaments that are based solely on the Era of the Old West, the company is broadly known for improving upon all the original ideas behind the historical firearms with the help of modern technology, machinery and the overall advancement of modern materials used for production.
This quality behind their products has put Uberti in the position as one of the chief companies by which shooting competitors and big game hunters tend to critique all other vintage armaments.
Among the line up of Civil War era percussion revolvers offered by Uberti, the New Army Conversion Revolver is unquestionably one of my favorites.
A remnant of the American Civil War, the Remington Model 1858 was originally a percussion revolver manufactured by Eliphalet Remington & Sons in a variety of models based on .31 (Pocket) .36 (Navy) and .44 (Army) calibers. The firearm was initially used throughout the American West as well as around the world in both its original percussion configuration as well as the upgraded metallic cartridge conversion. Once a prized possession of famous soldier and showman William F. "Buffalo Bill" Cody; the firearm was so reliable that Cody continued to carry the legendary revolver with him well into the cartridge era, whilst never converting it into its metallic cartridge form. The Remington Arms Company is now the sole owner of Buffalo Bill's original and historic ivory gripped New Army Model revolver. Where it sits on display with Cody's original handwritten note saying, "This old Remington Revolver I carried and used for many years in Indian wars and buffalo killing. And it never failed me."
From that of a purely aesthetic perspective, Uberti's replica of the Remington 1858 New Army Conversion Revolver is just plain gorgeous. From the two-piece walnut finish to the stylized and case-hardened blue steel frame, the New Army Conversion is covered in a variety of textures that all compliment the revolvers nostalgic and virile guise.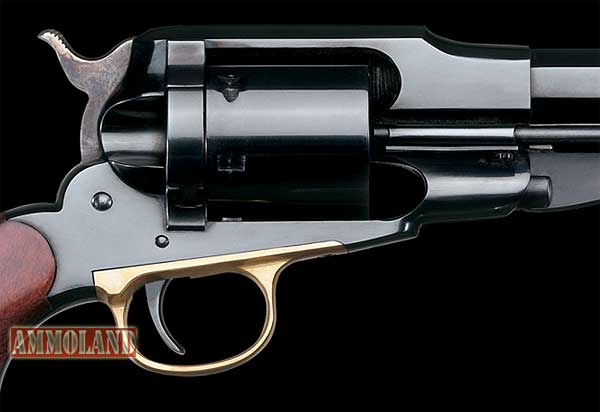 This nostalgic firearm has been updated to the standards of our modern and advanced world, making it an ideal candidate when choosing an armament for use in the Shooting Sports Industry as well as Cowboy Shooting Sport Competitions. With the initial 5 chamber model that was announced by Remington in 1868 as well as the advanced 6-shot varieties were chambered for .44-caliber center fire rounds. Uberti has modernized the build and now offers an exquisite 6-shot, chambered in .45 Colt configuration.
Uberti offers their replica of Remington's 1858 New Army Conversion Revolver in one inherently unique style that outshines all the others on the market with its bravura, quality and build.
Keep in mind that modern design updates add an ample supply of configurations, but we should always remember the old tips from our long-standing shooters. Such as the least dangerous way to transport and carry a single-action revolver was to only keep five chambers loaded whilst allowing the hammer to rest in the safety position, on the empty sixth chamber.
With the culmination of spring and the shine of summer presenting its glorious gleam upon us, I would highly recommend A. Uberti's New Army Conversion Revolver for any shooting enthusiast looking for the historic look and feel of a 100+ year old black powder revolver but with the convenience of modern cartridges.
This high quality revolver has an MSRP of $579, but the Uberti Model 1858 New Army .44-Cal. Black-Powder Revolver is available at Cabelas for $359.99 which is an excellent deal considering the gun will likely be a collector's item years from now and could make for a fantastic edition to your black powder revolver collection.
Article by Justin Stakes
Photos by A. Uberti
Justin Stakes is a Freelance Photographer and Journalist dealing with a variety of different subjects that interest and inspire his love for the great outdoors and more. Justin is an avid outdoor enthusiast and geek with a photographic style that is a mixture of photojournalism and fine art. He has won three Photo Show Competitions throughout his education and has even been exhibited in the Wignall Museum of Contemporary Art.