July 27 2014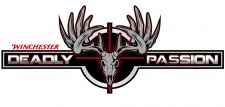 MINNETONKA, Minn.; (July 22, 2014) — Melissa Bachman grew up hunting whitetails like many youngsters in the Midwest – and her dream was always to find a monster whitetail to call her own.
She's done that – and more – in her career and on this week's episode of Winchester Deadly Passion, she continues the trend of persistence plus patience equals a bruiser to bring home.
Tune in to Winchester Deadly Passion Sunday July 27 at 2 p.m. ET on Sportsman Channel and also at 5 p.m. ET on the Pursuit Channel.
Get a glimpse of this week's action here: www.thesportsmanchannel.com/shows/winchesters-deadly-passion/
Bachman heads to Golden Triangle Whitetails for a four-day slug season hunt to see if she can repeat past year's successes. A front is on its way in, which is good, but the wind started picking up and spooking all the deer. After that happened too many times, Bachman couldn't find the whitetail buck she wanted and went home empty-handed.  But have no fear as she returns the next weekend for muzzleloader season.
"One of the things I've learned over the years is you need to have the right location to consistently find big bucks, which is why you'll see me at Golden Triangle Whitetails at a variety of times," said Bachman. "I've had great success here during opening day, late in the season, bow season – it doesn't matter. The key is in preparation – from making sure your gear is ready to your cameras in the field and food plots. It all must come together."
Will the late-season muzzleloader season provide the results Bachman seeks? Or will the weather play foul in her plans once again?
Learn more about Winchester Deadly Passion at www.MelissaBachman.Com and at Facebook.Com/WinchesterDeadlyPasson Find out more on Golden Triangle Whitetails at www.goldentrianglewhitetails.com
About Winchester Deadly Passion: Every good hunter needs a solid role model, and Melissa Bachman, host of Winchester Deadly Passion, fits that bill perfectly with a unique ability to share her love for hunting with passionate fans and viewers. Winchester Deadly Passion is 26 weeks of non-stop action and pure entertainment as Melissa travels the globe going head-to-head with everything from world-class red stag and thousand pound gators to Boone and Crocket whitetails and thunderous bull elk. With rifle, bow or shotgun in hand, Melissa's fast-paced, in-the-moment hunting style will keep you on the edge of your seat, while her expertise and decades of experience give viewers useful tips and strategies they can use afield.
With a company heritage dating back to 1866, Winchester Ammunition was there for the taming of the American West, the Allied Forces' victory in World War II and through the years, millions of fond memories made in the great outdoors. Known as The American Legend™, Winchester is a global leader in sporting, law enforcement, military and personal defense ammunition production. Winchester continues to raise the bar with new products like AA TrAAcker, Varmint X and the 17 Win. Super Mag. To learn more about Winchester, visit Winchester.com or connect with Winchester at Facebook.com/WinchesterOfficial