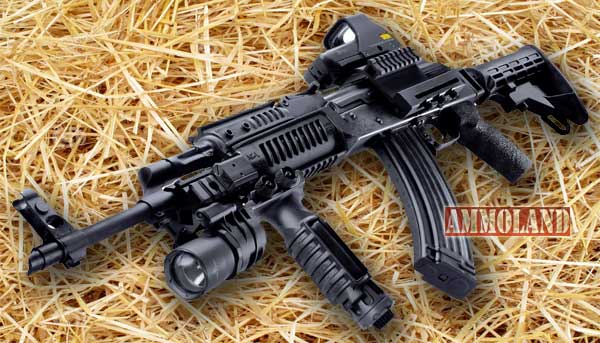 Midwest, USA – Mikhail Kalashnikov passed away less than a year ago. But his iconic rifle design lives on, and will probably stick around longer than any of us currently walking the planet.
The AK is famous – or infamous – for being rugged, simple and durable. For proof of the Kalashnikov's reliability, check out this video below, at about the mark 1:58, of a South African Special Task Force digging an AK out of the soil after 18 years, and making it run with just some motor oil and the most rudimentary cleaning.
If you like AKs as much as I do, quit watching after about the 2:20 mark, so you don't see that plucky rifle  blown to tiny pieces. If you hate the AK, stay tuned and break out your popcorn.
As tough and trusty as the Kalashnikov is, the truth is it's a 55-year-old design that has some limitations. But plenty of creative folks have put their minds to work in the intervening five decades, and there are now lots of really nifty AK 47 Accessories to help update the AK and make it even more useful. You can find them at quality retailers aplenty. For example, Brownells offers most of the things mentioned in this article in their expansive AK 47 Accessories Section.
I've compiled a list of the best AK 47 Accessories to really improve your rifle. Of course, I'm assuming that you've already got an AK, a pile of ammo, and lots and lots of magazines. If you don't, well, what's wrong with you?
Here are my go-to list of best AK 47 Accessories:
Maglula AK-47 Mag Loader
Red Star Arms AK-47 Adjustable Trigger Kit
Command Arms Collapsible AK 47 Buttstock
Texas Weapons Systems Dogleg Rail
Bushnell TRS-25 Red Dot
Hi-Lux CMR-AK762 Tactical Scope
Live Inventory Price Checker
And my reasoning below.
5. AK 47 Accessories: Mag Loader
Since you've already got your Kalashnikov, ammo and magazines, you need something to help you reload those mags faster. The AK-47 Maglula is just the thing. Slip it over the top of your mag, work the lever, and load with mechanical advantage.  Your thumbski will say, "Spasiba, Komrade!"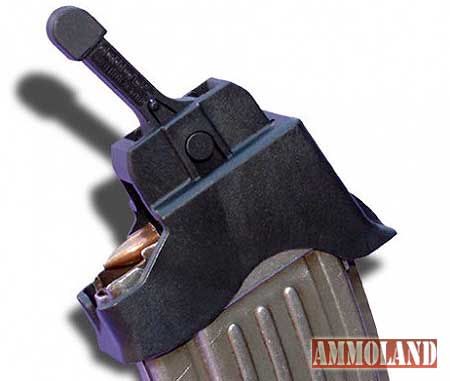 4. AK 47 Accessories: Adjustable Trigger
One of the legitimate knocks against the AK is that the factory trigger can be spongy, or gritty, or downright unpleasant. Some AKs even suffer from "trigger slap," caused by the trigger getting smacked by the disconnector as the hammer resets. The trigger rebounds forward and literally slaps into your finger, which hurts.
You can search around the Internet for how to fix the problem by grinding some metal away. Or you could just replace the whole trigger group with a modern adjustable trigger, like the one from Red Star Arms. See Video review here : https://youtu.be/rNfHVaS2_uc
You can set it as either a two-stage or single-stage, and adjust the pull weight way below the normal AK 47 Accessories trigger. Nothing enhances a rifle like a brand new, light, adjustable trigger.
3. AK 47 Accessories: Adjustable Stocks
AKs typically come with either the traditional fixed stock in wood or polymer, or the various folding stocks that make the gun compact to carry but are often cold and uncomfortable to put against your cheek. Plus, you can pinch your finger in both the side and under-folding models.
Several companies now make adjustable AK stocks. There are complete adjustable stocks, like the one from Command Arms. But if you want even more choice, VLTOR has a system that puts an AR-15-style tube onto your AK, letting you use any AR-15-style stock you want, like those from Magpul .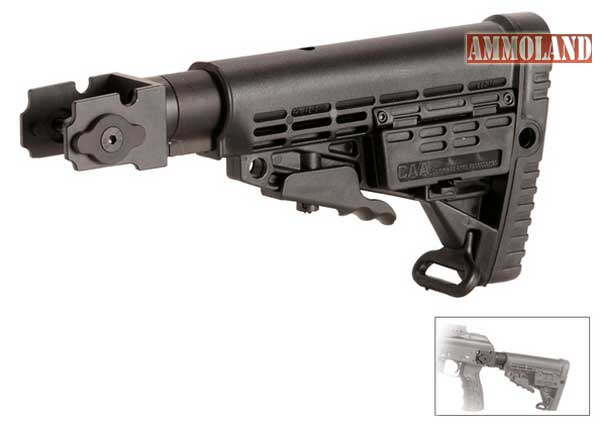 2. AK 47 Accessories: Rails
The AK was designed long before infantry rifles came with standard-issue optics. As such, it's hard to put any sort of sight system beyond standard irons on an original-configuration AK. Today, there are lots of AK 47 Accessories choices when it comes to adding or mounting rails to your Kalashnikov. There are railed handguards, like those from Midwest Industries , and railed receiver covers, like the Dogleg from Texas Weapons Systems.
There are also optic mounts designed to fit the integral scope rail that some more-modern AKs have on the side of their receivers. The various mounts from RS Regulate  are good examples of these.
These rails will let you easily put some sort of optic on your AK, be it a red dot, reflex sight, or even a low-powered scope. Just like a good trigger will improve any rifle's performance, a good optic that holds zero makes it easier to acquire and hit targets.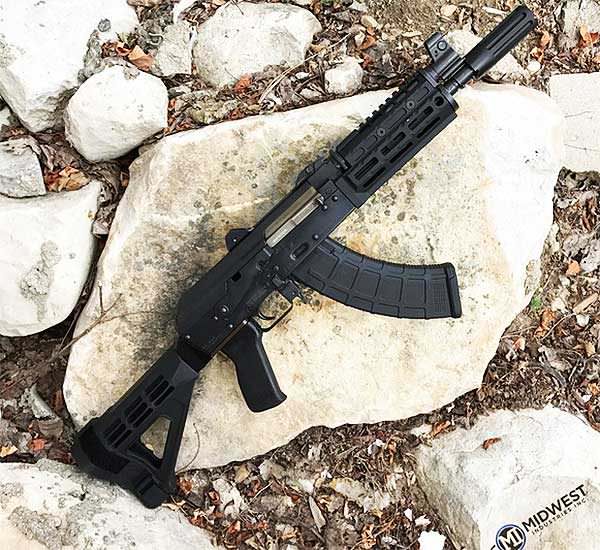 1. AK 47 Accessories : Optics
Especially if your eyes are much older than 25 years, any sort of good optic will really enhance your AK.
Standard factory AK triggers and original iron sights are two reasons why lots of American shooters consider AKs to be "minute of bad guy" rifles effective for only close range use. Now, if you've gone to the trouble to uprade your rifle's trigger, you'll need some sort of optic to get the most out of your Kalashnikov.
If you chose a handguard rail system, you'll need a long- or unlimited-eye-relief sight, like the Bushnell TRS-25 red dot . It's a rugged, reliable red dot that's right at home on a rugged, reliable Kalashnikov.
For the ultimate in AK 47 Accessories optics, you might consider the Hi-Lux CMR-AK762 scope. This 1-4x scope has a rangefinding reticle calibrated to match the trajectory of the 7.62X39 round, and an illuminated center. Turn it down to the true 1x, and you can use it like a red dot scope. Turn it up to 4x for longer-range shots. There's even the CMR4 version that's marked in miliradians, instead of MOA. As with most traditional scopes it will require a rail that lets you mount the optic closer to your eye.
Your AK Is Out There
The AK is one of the most widespread rifles on Earth. There are still oodles of Romanian, Bulgarian, Hungarian, Polish and even American-made rifles to be had. There are more than 100 million AKs kicking around. Go get yourself one, or a dozen.
Thomas Conroy is a firearms aficionado and writer who lives in the Midwest.
---
AmmoLand Editor Comments:  This article was updated to reflect changes in product improvements / availability on 10/30/2017.
Some of the links on this page are affiliate links, meaning at no additional cost to you, Ammoland will earn a commission if you click through and make a purchase.