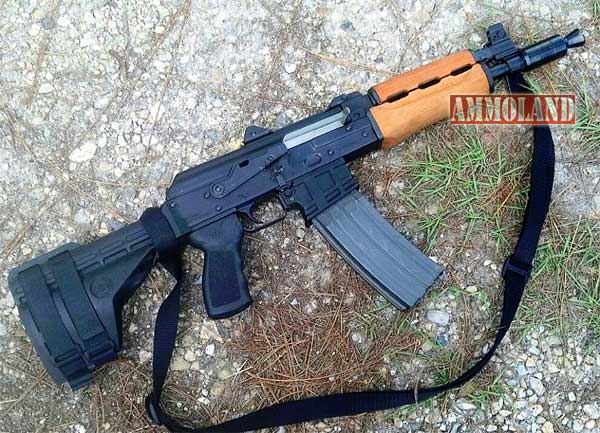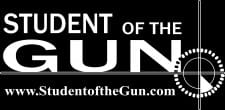 Biloxi, Mississippi — (AmmoLand.com) – Having been involved in the firearms world for the last three decades, I rarely get excited about new products. A mixture of jaded and cynical would best describe my outlook.
Early this year while perusing the quarterly catalog/flyer from Century Arms I came across a product that piqued my interest. The Zastava PAP M85 NP is advertised as an AK-style pistol chambered in 5.56x45mm NATO feeding from standard AR-15/M-16 magazines.
An AK chambered in .223/5.56mm is not a new item. Such guns have been around for years. The biggest issue I've had with .223 AK's is that they tend to be more expensive to own and shoot than the 7.62x39mm versions. Specially designed .223 AK magazines also have tended to be hard to find and rather costly. Why pay more for privilege?
Standard configuration Kalashnikov pistols really don't blow my skirt up, but the advent of the new M47 "stabilizing brace" has changed all that. To be quite frank, the new brace has changed the AK pistol from a quaint novelty to a practical tool.
The current situation with AR-15 magazines is quite positive. Manufacturers have caught up with all of the back orders and AR mags can be had at rather attractive prices. By the same token, .223 Remington ammunition is now plentiful and priced at pre-2008 levels.
I suppose the natural question on everyone's mind when they seen an AK with an AR magazine sticking out of it is; "Will it actually work?" That was my quandary. Jarrad and I packed our range bags, plenty of .223 ammunition and a variety of AR magazines at head to the Mississippi Combat Training Academy.
After launching somewhere around 250 to 300 rounds of .223 through the gun this past weekend, I can say "Yes, the gun will run." But that's getting ahead of things.
For testing purposes we had GI aluminum magazines from Brownells, PMags from MagPul, and even a SureFire MAG5-60 sixty round version. The test ammunition came from ASYM, Black Hills, HPR, Silver Bear and Winchester….
---
StudentoftheGun.com is the #1 source for education, enjoyment, and enlightenment of real-world firearms delivered through: training, videos, radio, books and articles.
Being a Student of the Gun is not about being a novice or beginner. Student of the Gun represents a lifelong journey of education, enlightenment and the enjoyment of firearms. Each episode will introduce the viewer to new and interesting firearms as well as the latest gear to go with them. You are a beginner once, but you should be a student for life.
We will travel throughout the United States, seeking the advice and expertise of the best firearms trainers available. Sometimes deadly serious, sometimes just for fun, Student of the Gun will always strive to educate and entertain our viewers while offering them an insiders' look at the world of firearms.
Student of the Gun is proud to bring you exclusive gun/gear giveaways and complimentary training. To show our appreciation for our loyal subscribers, we are constantly choosing winners. To view our current giveaway(s) and enter to win, click HERE. We couldn't bring you these exclusive giveaways without the support of our fantastic sponsors. Be sure to check them out and let them know you appreciate them as much as Student of the Gun does!
Watch the TV show weekly (7 p.m. EST) on DISH Network Channel 266 (HUNT Channel) , view 24/7 HD on-demand, read articles, and listen to SOTG Radio HERE. You can download the mobile app here>>>SOTG Mobile App
About the Host
Paul G. Markel has worn many hats during his lifetime. He has been a United States Marine, police officer, professional bodyguard, and small arms and tactics instructor. Markel has been writing professionally for law enforcement and firearms periodicals for nearly 20 years, and has hundreds of articles in print. A regular guest on nationally syndicated radio talk shows, Markel is a subject matter expert in firearms training and use of force.
Markel has been teaching safe and effective firearms handling to students, young and old, for decades and has also worked actively with 4H Shooting Sports programs. Markel holds numerous instructor certifications in multiple disciplines; nonetheless, he is, and will remain a dedicated Student of the Gun.