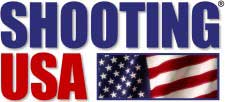 USA – -(Ammoland.com)- Shooting USA – USPSA Open Nationals – The Steel Challenge 2013
It's the bang and clang of drag racing with hand guns. The fastest shooters in the world are at the Steel Challenge to crown a world champion.
Plus, the AK-47 and the designer who became the most famous of all Russian Generals. And John has another Brownell's Home Gunsmithing project, saving an abused Remington 870 with a new stock set from Hogue.
Shooting USA's Impossible Shots – The 460 Explosion
We're down in Louisiana with Smith & Wesson Pro shooter Jerry Miculek. So far this season Jerry has amazed us with speed rifle, and speed revolver shooting, but this time Jerry's going to need the big gun.  And, it's the extremes of North and South, with a trip to the coast of Maine for Mr. Flintlock, George Sutton, to prove he can hit it even when he can't see it.
AIR TIMES BY TIME ZONE
The Shooting USA Hour Wednesdays:
Eastern Time: 3:30PM, 9:00PM, 12:00 Midnight
Central Time: 2:30 PM, 8:00 PM, 11:00 PM
Mountain Time: 1:30 PM, 7:00 PM, 10:00 PM
Pacific Time:  12:30PM, 6:00 PM, 9:00 PM
Shooting USA is listed as a one hour show in your cable menu.
Shooting USA's Impossible Shots:
Eastern Time:  3:30AM, 3:00 PM, 11:00 PM, 2:30AM Thursday
Central Time:  2:30AM, 2:00 PM, 10:00 PM, 1:30 AM Thursday
Mountain Time: 1:30AM, 1:00PM, 9:00 PM, 12:30 AM
Pacific Time: 12:30AM, Noon, 8:00 PM, 11:30 PM
Quick Trip to Rockcastle
Mike and John head to "America's Ultimate Shooting Sports Resort" for the 3-Gun Pro Am Championship in Park City, Kentucky.  Mike will take on the challenge in Tac Optics, while John is on the other side of the rope – as a volunteer, to ensure Wounded Veterans have a successful and fun experience. Be sure to stop by and say "hi" to the guys!
Are You Connected?
Follow Mike and John's trip on the Shooting USA Show Page on Facebook: https://www.facebook.com/JimScoutten.ShootingUSA?ref=br_tf
Jim
Defending the 2nd by Example in the 21st Year
[email protected]