Quality firearm maker, Franklin Armory launches production of the world's first gas piston semiautomatic rimfire, the F17-L™ chambered in .17 Winchester Super Magnum!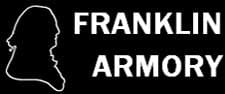 MORGAN HILL, Calif., – -(Ammoland.com)- Franklin Armory, maker of quality MSR firearms, announced today that their F 17-L chambered .17 Winchester Super Magnum will begin immediate shipment on August 20, 2014.
Compared to the 5.56 NATO cartridge, the .17 WSM obtains similar velocities with long range accuracy that most varmint hunting and target shooting enthusiasts desire.
The addition of a brand new gas piston system, developed in partnership with Osprey Defense, adds increased reliability and decreases cleaning requirements.  Because the .17 WSM is a rimfire cartridge, it is not classified as an "Assault Rifle" in most states.  In California, the F17-L is distributed with a standard magazine release button!
The Franklin Armory F 17-L platform is based on a traditional modern sporting rifle with a few key distinctions.  The rifle's buffer was custom made to match the lighter recoil and shorter stroke length of the .17 WSM.
The patent pending bolt carrier group is based on the original Eugen Stoner design of a rotating locking bolt, but is cut differently to facilitate the custom sized magazine feed lips and the pistol length gas piston system.  The carrier is also notched to have a fully functional forward assist.  The Free float, tripod mountable handguard has provisions for installing a bipod stud and Magpul M-LOK accessories.
Specifications:
20" Heavy Full Contour with 11 Degree Target Crown and  Recessed Muzzle, 1/9 Inch Twist, Salt Bath Nitride Chamber, Bore, & Finish, and Chambered in .17 WSM
Matching Franklin Armory Libertas Billet Upper and Lower Receiver
Fully Functioning Forward Assist
Patent Pending Custom Designed 17 WSM Bolt Carrier Group
Custom  Osprey Defense Gas Piston System
Franklin Armory Custom Tuned Trigger
TML-12 Handguard
Custom 17 WSM 10 Round Magazine
MSRP $1999.99
Every firearm produced at our facility in Morgan Hill, California is made with 100% American made parts & materials!  To learn more about the F17-L or to locate a Franklin Armory dealer, please visit www.franklinarmory.com