LEGISLATIVE REPORT August, 2014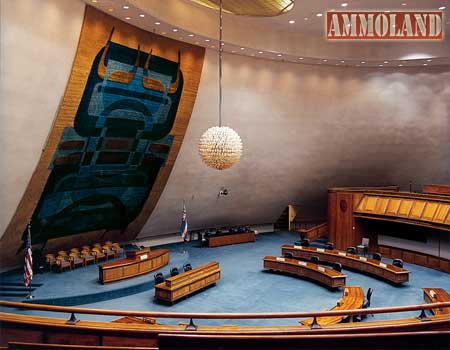 Hawaii – -(Ammoland.com)- Elections – The 2014 Hawaii Primary Election results are overall positive for gun rights supporters.  Go to http://hawaii.gov/elections/results/2014/primary/ for the Elections Commission complete result.
The US SENATE race to fill Daniel Inouye's seat, currently held by Abercrombie appointee Brian Schatz (F-rated), is over.  Schatz finished 1,769 votes ahead of challenger Colleen Hanabusa (D-rated). He had a 1,635-vote lead following Saturday's primary election.   Challenger Colleen Hanabusa (D-rated) hoped to score a win via Puna where the vote was delayed due to extensive damage from Hurricane Iselle.
The Elections Commission, the candidates, the Democratic Party leadership, and the voters were divided on which voters got a chance to vote, and when and how.
Incumbent State Representative, Faye Hanohano (C-rated), representing Puna, has been in trouble for abusing non-Hawaiians from her Committee Chair, and hoped to overturn what is now an upset by her opponent, attorney Joy Sanbuenaventura (not rated) by 860 votes .
Cam Cavasso (A-rated) won the Republican ticket for US Senator but is well behind the total votes for the two Democrat front-runners.  Independent Joy Allison (A-rated) did not capture enough votes to make the General Election, and her campaign manager informs us they have filed a lawsuit over HI election practices.
US REPRESENTATIVE DISTRICT I    State Rep. Mark Takai (D-rated) edges HI Senate Pres., Donna Kim (F-rated) on the Democratic slate and will face off in the general election against former US Rep., Charles Djou (A-minus), who took the Republican vote.
US REPRESENTATIVE DISTRICT II    Republican Kawika Crowley (A-rated) is way behind Tulsi Gabbard (F-rated), who ran unopposed.
GOVERNOR In a predicted upset, State Senator David Ige (A-rated), trounced our F-rated incumbent Gov., Neil Abercrombie, the only Hawaii Governor to ever lose a primary.  See Denby Faucett's amusing analysis of why:
http://www.civilbeat.com/2014/08/denby-fawcett-a-pidgin-guide-to-neil-abercrombies-downfall/
Former Lt. Gov, Duke Aiona (C-rated), wins the Republican ticket with vote numbers well short of the combined Democrat votes.  Some deficit can usually be overcome, as many conservatives vote a Democrat slate in the Primary, and then cross back for the General.  Many did so to vote for Ige.
LT. GOVERNOR    Shan Tsutsui (B-rated) won over State Senator Clayton Hee (B-rated) who gave up his Senate seat and Judiciary Chair to run.  Ige/Tsutsui will face Republican former Lt. Governor Duke Aiona (C-rated) and Elwin Ahu (unrated) and Independent candidate Mufi Hannemann (B-rated) and Les Chang (unrated).
HAWAII STATE LEGISLATURE   Hurrah that our best supporters at the Legislature won their primaries!   Rep. Ken Ito ran unopposed and is elected. Rep. Sharon Har won her contested primary which was organized by House liberals to punish her for her support of the 2nd Amendment.  Reps. Ty Cullen and Henry Aquino ran unopposed and are elected.
Senator Sam Slom (A+) and half of the Senate were not up for re-election this year.
Supportive Senators Keith-Agaran, Kalani English, Clarence Nishihara, Michelle Kidani, Maile Shimabukuro, and Jill Tokuda have comfortable leads.  Double A-rated Colleen Meyer lost the Republican primary vote to A-rated Richard Fale.  Fale opposes A-rated Democrat Gil Riviere in the general for Clayton Hee's empty District 23 seat, Kaneohe to Wahiawa.
Supportive Representatives Mark Nakashima, Angus McKelvey, Richard Onishi, Cindy Evans, Speaker Joe Souki, Ryan Yamane, Greg Takayama, Karen Awana, Jo Jordan, and Michael Magaoay have comfortable leads going into the general election.
Reps. Clift Tsugi (A), Romy Cachola (B), and Marcus Oshiro (A) ran unopposed and are elected.
Two Republican incumbents (a rare species in our Leg), double A-rated, always outspokenly supportive, are in tight races and need your support, Reps. Bob McDermott and Gene Ward.  Likewise, Minority Leader Aaron Ling Johanson, Moanalua, (B).
Newcomer Jarrett Keohokalole, A-rated, for State Rep., Kaneohe, won his Democratic primary against Sierra Club Pres., Robert Harris, F-rated.
Auwe that the worst opponents of our gun rights won their primary races!
     Senate:   F-rated Senators Josh Green and Brickwood Galuteria, authors of the horrible anti-gun bills in the 2012 session, both have strong leads going into the general.  F-rated Lorraine Inouye has unseated B-rated Malama Solomon in Maui.  F-rated Roz Baker leads in District 6, Maui.
     House:   Our nemesis in the House, Judiciary Chair Karl Rhoads (F), ran unopposed, an undeserved luxury, and is re-elected.  His henchman, Majority Leader Scott Saiki, has a wide lead.  However, Rep. Rida Cabanilla, F-rated, is unseated by her Democratic primary opponent, Matthew Lopresti (unrated).
Errors and omissions are mine, alone.  Please send corrections to me at [email protected]
Mahalo, Dr. Max Cooper, HRA Legislative Liaison
Mahalo to all supporters of our 2nd Amendment and hunting heritage who ran, and to those who voted for them.