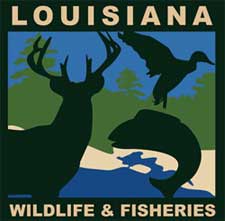 Abbeville, LA -(Ammoland.com)- The Louisiana Department of Wildlife and Fisheries (LDWF) is now accepting applications for waterfowl group hunts for up to 12 hunters per group at White Lake Wetlands Conservation Area (WCA).
The cost of the 2014-15 waterfowl season hunts will be $30,000 for each group and the application form is available on the LDWF website. A completed application form and $2,500 deposit must be submitted to LDWF by the close of business on Friday, Sept. 3, 2014.
Interested groups must select one, two-day group hunt per application. When selecting dates from the dates offered (example: Nov. 15-16), it is understood that arrival will be the afternoon before (example: Nov. 14). The two consecutive days of hunting do not include the arrival day, which will be the day before from 3 to 5 p.m.
LDWF will select one application by random lottery drawing for each hunt offered. Applicants must be at least 18 years old and must submit a separate application for each two-day group hunt they wish to reserve. Applicants can apply for as many as three separate, two-day hunts. If multiple applications are submitted, each will require a separate $2,500 deposit.
Applications must be accompanied by a bank draft, money order or other liquid instrument made payable to Louisiana Department of Wildlife and Fisheries in the amount of $2,500. If the application is selected, the deposit is non-refundable. The applicant will be notified by mail or e-mail, and will be required to submit the final payment of $27,500 no later than Oct. 15, 2014.
The fee covers up to 12 hunters and includes the following: transportation to and from the airport (Jennings or Lake Charles or Lafayette), all food and beverages, two-night stay at the White Lake Lodge, professional hunting and fishing guides, hunting and fishing licenses, steel shot shotgun shells for waterfowl hunts and lead shot for skeet range, the use of shotguns and fishing gear, bird and fish cleaning and packaging.
On the arrival day, hunters will watch a safety film and then be issued hunting and fishing licenses. If time allows, the group will shoot skeet in the late afternoon hours. Day two starts with a morning waterfowl hunt from 6 to 9:30 a.m. After the hunt, the group can fish or shoot clay targets on the skeet range or sporting clays course. On day three, a morning waterfowl hunt is scheduled from 6 to 9:30 a.m., and checkout is no later than noon, after lunch.
Applications must be mailed or delivered to:
Louisiana Department of Wildlife and Fisheries
Attention: White Lake Group Hunt
2000 Quail Drive, Room 422
Baton Rouge, LA 70808
About The Louisiana Department of Wildlife and Fisheries (LDWF)
The Department of Wildlife and Fisheries is charged with managing and protecting Louisiana's abundant natural resources. The LDWF's mission is to manage, conserve, and promote wise utilization of Louisiana's renewable fish and wildlife resources and their supporting habitats through replenishment, protection, enhancement, research, development, and education for the social and economic benefit of current and future generations; to provide opportunities for knowledge of and use and enjoyment of these resources; and to promote a safe and healthy environment for the users of the resources.