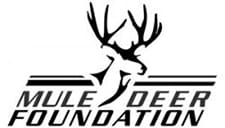 Salt Lake City, UT -(Ammoland.com)- This week, Field & Stream magazine announced that one of the six finalists for its annual Hero of Conservation Award is a Mule Deer Foundation volunteer from Bismarck, North Dakota – Ryan Krapp.
Ryan will join the other finalists at the 2014 Heroes of Conservation Gala event in Washington, DC, on September 17, and will be presented with a $5,000 grant. One honoree will be named Field & Stream's Conservation Hero of the Year and be awarded a new Toyota Tundra, courtesy of Toyota Motor Sales, U.S.A., Inc., the program's exclusive sponsor.
Field & Stream will release two videos featuring Krapp and his conservation efforts on their website starting the week of August 25. In addition the October issue of the magazine hitting newsstands on September 17 will include the full interviews with all six finalists.
"This is such a tremendous honor and I'm glad that it will shine a national spotlight on the need for mule deer conservation and efforts of the Mule Deer Foundation," Krapp commented. "This event in Washington, DC is giving me the chance to meet with my members of Congress to talk about our efforts and the need to conserve mule deer habitats that are increasingly being fragmented by the oil and gas boom in western North Dakota. I'll also have the opportunity to network with and personally thank my fellow finalists who are also doing great conservation work across this great country."
Krapp, MDF's North Dakota state chair, received the organization's Maggie Justice Award as the national volunteer of the year at the convention in February. He has been active in working with private landowners to improve their mule deer habitat and public access through the North Dakota PLOTS (Private Land Open to Sportsmen) program. In addition, Krapp also chairs MDF's national Volunteer Leadership Team and contributed to starting the MDF MULEY (Mindful, Understanding, Legal, Ethical Youth) program.
In July, he coordinated an event that introduced another 225 children to hunting, shooting and conservation. MDF regional director, Marshall Johnson, nominated Krapp for the Heroes of Conservation program.
"Ryan is an asset to North Dakota and the Mule Deer Foundation because he has innate leadership skills and the ability to bring others together to accomplish our mission," Johnson noted. "His role as the state chair is probably the most demanding, as North Dakota's mule deer habitats are at risk in the midst of the Bakken Oil Play. Ryan has been able to leverage his relationships with other conservation groups, the ND Game & Fish Department and the oil industry to come together for habitat and recently led a habitat enhancement project with all groups participating. That's something special."
In addition to Krapp being chosen as a Heroes of Conservation finalist, MDF's Utah County Chapter recently received attention from Field & Stream through their Hero for a Day program. That program grew from the Heroes of Conservation effort with a vision to organize public workdays for local volunteers to help out with on-the-ground conservation. The Utah County Chapter organized over 100 MDF volunteers at the Utah Division of Wildlife's Santaquin Wildlife Management Area to help with juniper removal, bitter brush planting, building a guzzler, and fencing and gate repair. The video of the workday was posted on the Field & Stream website last week.
"Bringing together so many volunteers and coordinating that many projects was a huge undertaking but we couldn't be happier with the outcomes," said Jeremy Anderson, state chair for MDF in Utah and member of the Utah County Chapter. "This management area is critical wintering grounds for mule deer and has been neglected over the years. We were happy to step up and make such a positive impact for wildlife."
About The Mule Deer Foundation (MDF)
The Mule Deer Foundation is the only conservation group in North America dedicated to restoring, improving and protecting mule deer and black-tailed deer and their habitat, with a focus on science and program efficiency. MDF is a strong voice for hunters in access, wildlife management and conservation policy issues. MDF acknowledges regulated hunting as a viable management component and is committed to recruitment and retention of youth into the shooting sports and conservation.