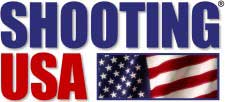 USA – -(Ammoland.com)- This Week – Manufacturers' Stock Pistols Compete & the Miculek Legacy
Shooting USA – USPSA Open Nationals – The USPSA Production Gun Nationals
"Win on Sunday, Sell on Monday" has made the Production Gun Nationals the most significant competition in run-and-gun competition.
The best Pro Shooters are competing with their manufacturers' stock pistols, hoping a National Championship will persuade you to buy their gun. Plus, the FP-45 Flare Projector that would get the name Liberator after the war. And John changes a shotgun bead to improve your sighting in a Brownell's Home Gunsmithing Tips.
Shooting USA's Impossible Shots – Shooting's First Family
Meet the Miculek's, the first family of shooting. Jerry and Kay welcome their daughter Lena to the range for some friendly competition. It's head-to-head shoot-offs, with three of the best. Then we sit down with Jerry and Kay to talk about Lena, competition, and their shooting legacy. Plus, Mr. Flintlock, George Sutton, is skipping round balls to find his targets on the bounce.
AIR TIMES BY TIME ZONE
The Shooting USA Hour Wednesdays:
Eastern Time: 3:30PM, 9:00PM, 12:00 Midnight
Central Time: 2:30 PM, 8:00 PM, 11:00 PM
Mountain Time: 1:30 PM, 7:00 PM, 10:00 PM
Pacific Time: 12:30PM, 6:00 PM, 9:00 PM

Shooting USA is listed as a one hour show in your cable menu.
Shooting USA's Impossible Shots:
Eastern Time: 3:30AM, 3:00 PM, 11:00 PM, 2:30AM Thursday
Central Time: 2:30AM, 2:00 PM, 10:00 PM, 1:30 AM Thursday
Mountain Time: 1:30AM, 1:00PM, 9:00 PM, 12:30 AM
Pacific Time: 12:30AM, Noon, 8:00 PM, 11:30 PM
Labor Day Weekend in the Panhandle
John and the crew head to Baker, Florida, for the "GAP Grind/Bushnell PRO/AM," dubbed as the premier long-range precision rifle match of the year. Let's hope the sun stays out and the weekend is not a repeat of last year's wet competition!
Are You Connected?
Follow John's trip on the Shooting USA Show Page on Facebook: https://www.facebook.com/JimScoutten.ShootingUSA?ref=br_tf
Jim Defending the 2nd by Example in the 21st Year
[email protected]