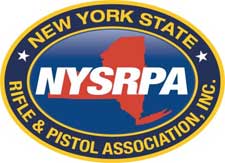 New York -(Ammoland.com)- Tom King, President of the New York State Rifle and Pistol Association and Michael Long, Chairman of the New York State Conservative Party, have a message for supports of the Second Amendment Right to Keep and Bear Arms.
They met on August 7, 2014, at the Blue Mountain Sportsman Center in Cortlandt Manor, NY.
Conservative Party of New York State Chairman Michael Long and NYS Rifle and Pistol Association President Tom King get together to make their pitch to Second Amendment voters in a new web ad shot at a Westchester gun range.
Not sure if it was intentional, but the timing of the shots in the background provides an incredible counterpoint to the duo's to-camera talk.
"The Conservative Party has had a long history of support for Second Amendment Rights," Long says at the Blue Mountain Sportsman Center in Cortlandt Manor.

"Matter of fact, the Conservative Party is the only party in the state of New York that (bang, bang, BANG) states clearly in our platform that we support the Second Amendment," Long continues.

"Well, you know, because (bang, KABOOM) of [your] steadfast support of the Second Amendment is the reason that I'm here, and it's all the reason I'm going to urge my members to vote on the Conservative Party line," King responds. "Let's send a message to the Republican politicians that we support those who support us."
About:
The New York State Rifle & Pistol Association is the state's largest and oldest firearms advocacy organization. Since 1871, our organization has been dedicated to the preservation of Second Amendment rights, firearm safety, education and training, and the shooting sports. Our membership consists of individuals and clubs throughout the state. We are a not-for-profit 501(c)4 organization and the official NRA-affiliated State Association in New York. Visit: www.nysrpa.org