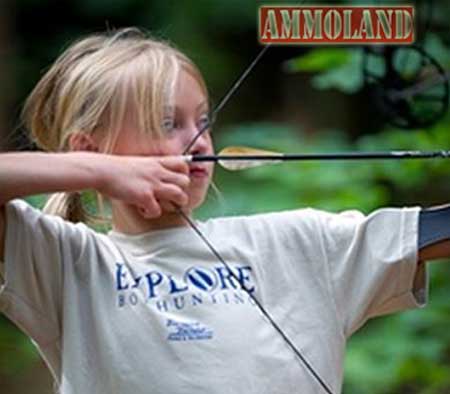 Lansing, MI -(Ammoland.com)- The Michigan Department of Natural Resources (MDNR) today announced that nine new members have been selected to serve on the Natural Resources Commission (NRC) Youth Conservation Council.
The members; young girl takes aim with archery bowages 14 to 17, will join the original 18 members in their exploration of new ways to encourage more young people to get outdoors more often and to participate in fishing, hunting, trapping and other outdoor recreation activities.
Chosen from among nearly 40 applications from youth across the state, the new members will serve one- or two-year terms. Successful applicants were selected based on their interest in helping to promote youth participation in the outdoors; their current community involvement; and the variety of skills and strengths they bring to the council.
New members and their home cities (counties) include:
Preston Badgero, Onaway (Presque Isle)
Erik Bean, Whitehall (Muskegon)
Frank Boudon, Troy (Oakland)
Emily Butko, St. Charles (Saginaw)
Wyatt Crick, East Jordan (Charlevoix)
Nicole Jarvis, Williamsburg (Grand Traverse)
Tim Lorenson, Ironwood (Gogebic)
Brett Masuga, Cedarville (Mackinac)
Jeremiah Moran, Fenton (Oakland)
"The Youth Conservation Council was conceived as a forum that would allow young people to share their perspectives about recreation in Michigan, brainstorm ideas about making outdoor experiences more accessible, and spawn new traditions for more of our youth," said Tim Nichols, Michigan Natural Resources Commission member and chair of the newly established NRC Youth Conservation Council subcommittee.

"We're excited to welcome these new members and look forward to the energy and creativity they're sure to bring to the table, both with new ideas as well as support for existing council projects," Nichols said.
In the council's first full year of meetings and discussion, one of the most important takeaways was that in order to more successfully deliver the outdoor-recreation message, the outreach needed to be peer to peer.
"The council members recognized that to get youth back outdoors hunting, fishing, kayaking or any other outdoor activity, we – not just the DNR – needed to be the promoters," Youth Conservation Council member Garrett Nolan said.
One way the council hopes to do this is through a blog that YCC members have launched as a means of building awareness about Michigan's rich variety of outdoor recreation opportunities and as a platform for young people to share their tips and experiences with each other. It's a virtual place for kids in all parts of the state to learn about what's happening in other Michigan communities and which outdoor traditions and pursuits they themselves might want to explore.
"This blog is a way for youth to share their experiences and to encourage others in enjoying all the great things about Michigan's outdoors," said Nolan. "We want youth to talk to each other, share their experiences and encourage their friends and relatives to join us outside."
The NRC's Nichols said the DNR tasked the Youth Conservation Council with helping to "enlist a new generation of youth who are committed to protecting, promoting and enhancing the outdoor heritage of this state." Nichols believes the council is off to a very strong start.
"The best way to ensure Michigan's outdoor recreation traditions are passed down to new generations is to make sure today's young people understand those traditions, as well as their role in conserving the state's natural resources that make such recreational pursuits possible," he said. "There are many people of all ages who care a great deal about Michigan's great outdoors. We're excited to see how this council can tap into that enthusiasm, offer some new ideas, and pique the interest of even more young people."
Learn more details – including the full roster of current members, frequency of meetings, and information on applying to be a council member – at the YCC website, which can be found at the DNR website under the Education & Outreach tab.
About The Michigan Department of Natural Resources (MDNR)
The Michigan Department of Natural Resources is committed to the conservation, protection, management, use and enjoyment of the state's natural and cultural resources for current and future generations.Youth Conservation Council.