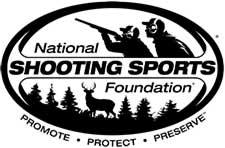 NEWTOWN, Conn –-(Ammoland.com)- The National Shooting Sports Foundation has been honored with three Telly Awards recognizing the high quality of two in-house-produced videos and a coveted Stevie Award for its 2013 Annual Review.
The 35th Annual Telly Awards honor outstanding local, regional and cable TV commercials and programs, the finest video and film productions, and web commercials, videos and films. A judging panel of over 500 industry professionals, each a past winner of a Silver Telly, judged the competition. Winners represent the best work of the most respected corporate video departments, advertising agencies, production companies, television stations and cable operators in the world.
NSSF Shooting Sportscast "Pistol Shooting Drill" with SIG SAUER Academy and a public awareness campaign on behalf of the Connecticut Firearms Industry won a total of three 2014 Telly Awards, including the highly-sought Silver People's Telly.
The Internet community helps decide the People's Telly Award winners. With the power to view and rate videos submitted, fans of NSSF's "Pistol Shooting Drill to Improve Accuracy – Shooting Tips from SIG SAUER Academy" piled on the votes, bringing NSSF the highest Telly Awards honor — a Silver 2014 People's Telly.
The video, "Connecticut Firearms Industry-Don't Lose Us in the Discussion," originally developed as three 30-second television ads, can be viewed here.
The award-winning videos and other NSSF videos can be viewed on NSSF's YouTube Channel at www.youtube.com/thenssf. Subscribe to NSSF's YouTube channel for new video postings and to join a community of over 70,000 hunters, target shooters and firearm enthusiasts.
The "Stevie" Award
In the American Business Awards contest, NSSF's 2013 Annual Review garnered the Bronze "Stevie Award" in the Best Annual Report-Print category. The report, titled "A Year of Resilience," highlighted NSSF's achievements in the area of firearm safety, government relations, promotion of the shooting sports and service and support to its more than 10,000 members.
Since 2002, the Gold Stevie Award has been conferred for achievement in business to organizations and individuals in more than 60 nations. In 2012, in honor of the ten-year anniversary of the award, Silver and Bronze Stevie Awards were introduced. The name Stevie is taken from the name Stephen, which is derived from the Greek for "crowned."
About NSSF
The National Shooting Sports Foundation is the trade association for the firearms industry. Its mission is to promote, protect and preserve hunting and the shooting sports. Formed in 1961, NSSF has a membership of more than 10,000 manufacturers, distributors, firearms retailers, shooting ranges, sportsmen's organizations and publishers. For more information, visit www.nssf.org.