Wichita Mountains Quail Forever chapter to focus on habitat and youth outdoor participation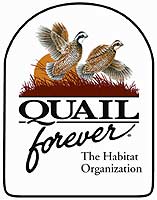 Lawton, OK -(Ammoland.com)- Dedicated conservationists and hunters recently formed a new Quail Forever chapter in southwestern Oklahoma.
The new chapter covers Comanche, Cotton, Stephens, Tillman, Grady and Caddo counties. Known as the Wichita Mountains Quail Forever chapter, the group will focus its attention on upland habitat improvements that benefit bobwhite and scaled quail.
"I'm excited to see folks coming together for their passion and love for quail and future generations of conservationists and hunters," says Laura McIver, Quail Forever's regional representative for Oklahoma. "People here in Oklahoma care very much about quail and other upland species; it's great to be able to bring them together for one united purpose—helping our quail survive for future generations."
Specifically, the chapter intends to conduct habitat projects on public and private lands. The Wichita Mountains Quail Forever chapter also looks to become active at encouraging youth participation in the outdoors and plans on working with local youth shooting sports teams to encourage interest in upland hunting and conservation.
Quail Forever is dedicated to the conservation of quail, pheasants, and other wildlife through habitat improvements, public awareness, education, and land management policies and programs. Quail Forever chapters promote local, state, and federal conservation programs, which help landowners protect environmentally sensitive acres for quail and other wildlife. Quail Forever also employs a unique model of empowering local chapters with 100 percent control of the chapters' locally-raised funds to complete habitat and youth education projects in the chapters' own communities.
Wichita Mountains Quail Forever Chapter
The Wichita Mountains Quail Forever chapter has elected Lou Bressman of Lawton as president and Tony Johnson of Fletcher as treasurer. The chapter is planning to elect its youth/education chair, habitat chair and banquet chair at its upcoming meeting.
The chapter will hold its next meeting on Monday, August 25, at 6 p.m. at the Pizza Hut (meeting room) located at 2311 NW Cache Rd, Lawton, OK 73505.
Quail Forever in Oklahoma
Oklahoma is home to six Quail Forever chapters. For more information about Quail Forever in Oklahoma, to join a chapter or inquire about starting a chapter, contact Laura McIver at (907) 750-2600.
About Quail Forever
Quail Forever is the quail conservation division of Pheasants Forever. Together, the organization is the nation's largest nonprofit organization dedicated to upland habitat conservation. Pheasants Forever and Quail Forever have more than 140,000 members and 745 local chapters across the United States and Canada. Chapters are empowered to determine how 100 percent of their locally raised conservation funds are spent; the only national conservation organization that operates through this truly grassroots structure. Since its creation in 1982, the organization has spent $508 million on 475,000 habitat projects benefiting 10 million acres nationwide.