Sporting Chef, 7 am ET on Sportsman Channel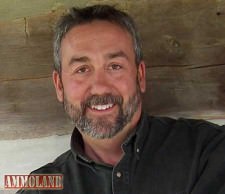 SACRAMENTO, Calif. (August 28, 2014) – There is a right way – and wrong way – to cook quail and wild game Chef Scott Leysath will show how easy it is for juicy, mouthwatering quail in this week's The Sporting Chef – an original series hosted and created by Scott Leysath. Tune in to The Sporting Chef on Sportsman Channel on this Sunday at 7:00 a.m. ET with re-air Friday, September 5 at 11:30 a.m. ET
"If your upland birds are dry, don't blame the birds," says Leysath. "Don't drown your quail in a slow-cooker loaded with 'cream of anything' soup. If you just don't cook it so long, it will be moist and tender. When you try and cook a quail until the juices run clear, like many recipe books will tell you, there aren't any juices." Chef Leysath shows how to cook quail the right way with his Pan-Seared Quail Stuffed with Rabbit-Rattlesnake Sausage (but any sausage will do).
Joining Leysath on the show is Full Draw Outfitters' Michele Eichler, whose cheesesteak is a lodge favorite. John McGannon talks coolers, Melissa Bachman has tips to keep you warm on a late season cold weather hunt, cast iron pro C. W. "Cee Dub" Welch makes cornbread in a vault and the show's resident redneck, Buddy T, prepares his favorite shrimp dish.
To learn more about what's on the grill this season, visit www.thesportsmanchannel.com/shows/the-sporting-chef
Learn more about Camp Chef and the Smoke Vault used in this episode at www.campchef.com Hi-Mountain Seasonings Poultry seasoning Leysath used on the quail at www.himtnjerky.com and pair it all with a bottle from Michael David Winery at www.michaeldavidwinery.com
The Sporting Chef, hosted by Scott Leysath, leans on Leysath's 25-year career as a fish and game chef, along with some of the outdoor industry's most-talented and innovative experts on the topics of fish and game preparation, outdoor cooking, camping, harvested game handling and storage. The show offers outdoor programming in a fast-paced magazine format covering a variety of topics from stuffing quail with rabbit-rattlesnake sausage to local game feeds to finding out whether farmed salmon is a good thing for our bodies or the environment.
Learn more about Sporting Chef at http://TheSportingChef.com and on Facebook at http://facebook.com/TheSportingChef