Editors Note: AmmoLand Shooting Sports News will be attending the GRPC as we do every year. If you would like to network with us please contact Fredy at [email protected], include GRPC in subject line.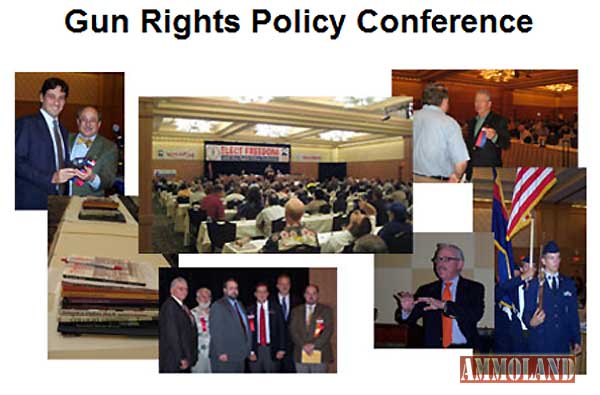 BELLEVUE, WA –-(Ammoland.com)- More than 600 gun rights activists have already pre-registered for the 29th annual Gun Rights Policy Conference, which is being held Sept. 26-28 2014 at the Chicago O'Hare airport Hyatt Regency.
SAF Executive Vice President Alan M. Gottlieb said this year's GRPC will attract gun rights leaders and grassroots activists from across the country. It is being held in Chicago in recognition of repeated SAF court victories in Illinois, including the landmark Supreme Court 2010 ruling in McDonald v. City of Chicago, plus Ezell v. Chicago and Moore v. Madigan, the case that forced the Illinois Legislature to adopt a concealed carry statute, thus bringing the Prairie State in line with the rest of the nation.
"Our last foray in Chicago three years ago was a great success," Gottlieb recalled, "and we have a full agenda that is certain to educate and perhaps even inspire activists from across the country.

"We take this annual conference around the nation," he continued, "to areas where our rights might be threatened. Chicago has been 'ground zero' for gun some of our most important litigation and the legal precedents that we've been setting are now showing up as footnotes in rulings all the way to California."
This year's agenda is loaded with panel discussions about lawsuits and the courts, gun politics, legislative challenges and more. Experts from virtually all corners of the gun rights movement will be on hand, and the annual awards luncheon on Saturday promises to be a crowd pleaser.
"We anticipate an exciting, intense weekend of discussion and interaction," Gottlieb stated. "As always, attendance at the GRPC is free. Registration is still open at www.saf.org ."
The Second Amendment Foundation (www.saf.org) is the nation's oldest and largest tax-exempt education, research, publishing and legal action group focusing on the Constitutional right and heritage to privately own and possess firearms. Founded in 1974, The Foundation has grown to more than 650,000 members and supporters and conducts many programs designed to better inform the public about the consequences of gun control.
In Related News: ISRA ALERT – REQUEST FOR VOLUNTEERS AT GRPC
The Illinois State Rifle Association and Gun Rights Policy Conference (GRPC) is looking for volunteers to help set up for their Conference.
Duties include gathering books that will be given to the attendees.
Volunteers should be at the Rosemont Ballroom, Hyatt Regency Chicago O'Hare Airport Hotel at noon on Friday, September 26 2014.
If you can volunteer, please call Rose at (425) 454-7012.