Hunting, Fishing, Trapping, Camping and More Showcased in 2014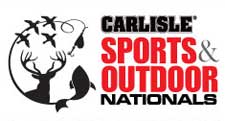 Carlisle, PA -(Ammoland.com)- For the second time in as many years, the cars that Carlisle Events are known for took a back seat to all things sports and outdoor.
The Carlisle PA Fairgrounds transformed into an outdoor lover's paradise with every aspect of the hobby on display. Guests came from the region over and enjoyed various displays, activities and guests related to hunting, fishing, trapping and more.
In total, the three-day weekend hosted a few hundred vendors, a few thousand guests and hours of non-stop, hands- on excitement. Gates opened Friday at 12 p.m. and things progressed quickly throughout the day. Hot spots onsite where the Disc-Connected K9s – World Champion Frisbee Dogs, wild life shows with Bwana Jim, the PA Federation of Muzzleloaders and special displays and vendors within Building T.
Archery was popular with kids taking shots via the fun shoot in order to win $1,500 in prizes from Baker's Archery and Real Scent. Further, family was the name of the game as the weekend welcomed many kids and families onsite. Those enthusiasts of all ages experienced additional activities like a catch and release trout pond, an 18th century living history encampment, tomahawk throwing and cabin building demonstrations. Yet another popular activity helped which helped wrap Friday was the Camo 5K Fun Run/Walk.
This event welcomed nearly 200 runners/walkers to Carlisle and helped raise money for the Leukemia and Lymphoma Society of Harrisburg.
Saturday came and went with a buzz of excitement all day long. Chainsaw artist Brooks Abeln was busy throughout day carving what appeared to be two birds sitting on a log. This work was done with multiple styles of chainsaws, a four foot long piece of wood and unmatched patience. Even more competitions took place Saturday too, as the Cumberland Valley Chapter of Trout Unlimited hosted the state fly casting championships. There were multiple prizes doled out and dozens of casters participated.
Joining them were the Capital City Bassmasters who hosted a casting kids competition, while National Wild Turkey Federation not only backed archery shooting, but turkey calling championships as well. Turkeys weren't the only birds being called as the Susquehanna Waterfowlers supported calling contests too.
The final day of the event hosted more guests, saw more activities take place and wrapped with a sportsman auction presented by the PA Outdoor Writers Association. The auction utilizes donated items and all proceeds from it benefit youth-based sports and outdoor-themed programs within the state of Pennsylvania. Yet another great final day highlight was the 3D competition archery shoot. Dozens of competitors took turns competing for prizes from Cabela's and Lancaster Archery. In all, the weekend featured a nice array of guests, displays and vendors, plus it benefited many local programs and organizations.
About Carlisle Events
Carlisle Events is a partner or producer of 14 annual collector car, truck and outdoor-themed events. Events are held at the Carlisle PA Fairgrounds (Carlisle, PA), Bloomsburg Fairgrounds (Bloomsburg, PA), Allentown Fairgrounds (Allentown, PA) and Festival Park (Zephyrhills, FL). The season schedule hosts a sports and outdoors event, five automotive swap meets of varying size, four auctions, as well as individual specialty shows featuring Corvettes, Fords, GMs, Chryslers, trucks, imports and kit cars and tuner and modern customs. Founded in 1974 by friends Bill Miller and Chip Miller, events hosted at Carlisle attract more than a half a million enthusiasts annually from all corners of the globe. More information is available via CarlisleAuctions.