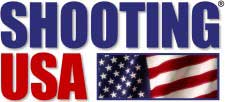 USA – -(Ammoland.com)- Shooting USA – Bianchi Cup 2014
It's the championship of NRA Action Pistol, better known by the name of the trophy, the Bianchi Cup. It's the richest and most prestigious match in the handgun shooting sports.
In the 35th year of competition, we've got a surprise finish with highlights you won't see anywhere else. Plus the history of the Mark III Enfield, and Julie Golob has advice for first time gun buyers.
Shooting USA's Impossible Shots – Fast Draw Semis
Worlds are colliding on this episode of Impossible Shots! Fast Draw World Champion, Cisko is ditching his cowboy six guns for 21st Century semi autos. Two guns chambering .22 rimfire, but designed to look like MP-5s. How fast will they shoot? Cisko is going to find out.
AIR TIMES BY TIME ZONE
The Shooting USA Hour Wednesdays:
Eastern Time: 3:30PM, 9:00PM, 12:00 Midnight
Central Time: 2:30 PM, 8:00 PM, 11:00 PM
Mountain Time: 1:30 PM, 7:00 PM, 10:00 PM
Pacific Time: 12:30PM, 6:00 PM, 9:00 PM

Shooting USA is listed as a one hour show in your cable menu.
Shooting USA's Impossible Shots:
Eastern Time: 3:30AM, 3:00 PM, 11:00 PM, 2:30AM Thursday
Central Time: 2:30AM, 2:00 PM, 10:00 PM, 1:30 AM Thursday
Mountain Time: 1:30AM, 1:00PM, 9:00 PM, 12:30 AM
Pacific Time: 12:30AM, Noon, 8:00 PM, 11:30 PM
The Travel Schedule – USPSA Handgun Nationals
This week, John and the crew head to St. George, Utah, where the nation's fastest race guns, and their owners will compete. It's the USPSA Handgun Nationals. Will Max and Nils take the top spots again? See our coverage in the coming weeks!
Are You Connected?
Follow the crew at the Shooting USA Show Page on Facebook: https://www.facebook.com/JimScoutten.ShootingUSA?ref=br_tf
Jim Defending the 2nd by Example in the 21st Year
www.ShootingUSA.com