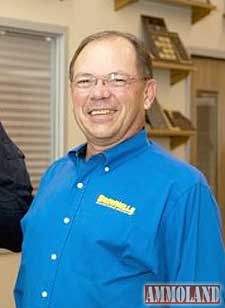 Des Moines, Iowa – -(Ammoland.com)- I hope by now have a copy of our latest "Big Book" #67 in your hands – and you've had a chance to page through it and see all the goodies inside.  If you don't have a copy yet, you can order our very own today!
Be sure to check out our brand-new sections for Emergency & Survival Gear and Archery products.  Bow season for deer is coming up real fast, so NOW is the time to get outfitted!
I hope you're making time to get out and shoot – I know Brownells folks sure are.  Several of the gang just got back from the Brownells Rockcastle Pro Am 3-Gun Championship in Park City, Kentucky.  We're awfully proud to partner with the good people at the Rockcastle Shooting Center to help put on such a fun event.  Sounds like it was a real hoot.  I hope I'll be able to report results in next month's letter.
Of course, you don't have to go to a formal competition to enjoy target shooting.  Lately, a number of folks here have been enjoying the Varmint Target.  It's a blast!  Once you turn it on, the target just pops up, like a real-live prairie dog.  You shoot it to knock it down.  But in a bit, back up it comes!  To really make it simulate a critter, you can dig a shallow hole and drop it in so just the yellow varmint is exposed.  Talk about a great way to introduce a new shooter to the sport!
The base is armored well enough to withstand an accidental .22 rimfire hit.  For anything bigger, you do need to add extra plates, or maybe a mound of sandbags to keep stray rounds from punching holes in the base and motor.  The rechargeable batteries last a long time, and each yellow target will absorb hundreds of hits.  Plus, you can get 5-paks of replacement varmints . . . um, targets.
If pistol shootin' is your game, we've got a nifty new target for you, too.  The 4-Paddle Auto-Reset Steel Target lets you flip the paddles up, and then knock 'em back down by shooting the square release paddle.  So you can pretty much keep shooting until you run out of ammo, without ever having to go up and reset targets.  The paddles are all hardened steel and require at least a .38 Special – or bigger – handgun to make them work.
Gunsmiths and folks who work a lot on their own guns will like the Split Rethreading Die from JME Innovations.  If you're trying to repair boogered-up muzzle threads on an AR-15, this is the tool to have – we've got it in both 1/2″-28 and 5/8″-24 sizes.  Dies for repairing messed threads have been around for a while, but this one is super easy to use – take a look at this video – and a lot less expensive than replacing a whole barrel!
Be sure to check out our YouTube Channel regularly for the latest from our video production team.  They are constantly putting up new videos, like this one for the myFC Power Trekk Fuel Cell Charger.  For instant electricity, just add water – amazing!  Once you see how easy it is to generate emergency power to charge your cell phone or other portable electronic device, you'll really want one, too.
As always, Brownells.com is the best place to keep up with the latest additions to our huge selection of products.  Here's a brand new one, just put on the site: Full-Length Concealment Mirrors from a company called Tactical Walls.  They look like the attractive framed mirrors often used in home decorating, but. . . wave the magnetic key over the hidden lock and voila!  Lots of storage for those things you want to have handy, but not let everybody else know about.
Don't need a full-length mirror, or don't have space for a storage unit that large?  How about the more-compact Concealment Shelf?  Available in two different lengths – both in Cherry and Dutch Walnut – these shelves easily conceal firearms or other valuables from prying eyes, while still serving as fully-functional shelves.  Really nice looking, too!  What will they think of next?
With Labor Day Weekend, the last big hurrah for Summer – a time for traveling, visiting relatives, cookouts, and plenty of outdoor activity.  Its a great chance to round up your friends and family, pack off to the range, and make some memories doing something you love!
Let's also remember that Labor Day is the one day a year we set aside to honor folks who work hard.  In these WebBench letters, we often talk about protecting our Constitutional rights, particularly the Second Amendment.  Just as important to preserving our freedom is economic independence – you work hard, and in turn, you and your family enjoy benefits of your own labor.  Doesn't happen that way in a lot of places in the world.  Let's all take a moment over the weekend to cherish what we have.
About:
Founded in 1939, Brownells is an Iowa-based, family-owned company that supplies more than 75,000 firearms parts, accessories, reloading components, gunsmithing tools, and ammunition to armorers, gunsmiths, and shooters worldwide. In addition to their industry leading 100% lifetime guarantee on EVERY product sold, their staff of veteran Gun Techs are available to assist customers with any need – free of charge. There are no minimum order sizes or fees. To place an order, or for more information, call 800-741-0015 or or visit Brownells.com