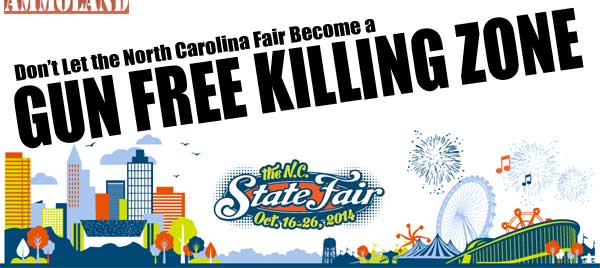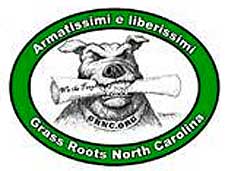 North Carolina –-(Ammoland.com)-At the request of North Carolina Commissioner of Agriculture Steve Troxler, Grass Roots North Carolina (GRNC) representatives today met with the commissioner and his legal counsel after his police chief for the state fairgrounds, Joel Keith, began telling people the North Carolina State Fair would be posted against all firearms, including lawful concealed carry.
Although Troxler is not particularly anti-gun, he seems unwilling to take responsibility for doing the right thing, saying instead that as a member of the executive branch, he cannot interpret statutes and must follow the interpretations given to him (more on that shortly).
Consequently, the commissioner and GRNC were unable to achieve a satisfactory resolution of the problem. GRNC is now preparing a filing for a temporary restraining order, through its sister non-profit, Rights Watch International, to prevent the fair, which starts in just over two weeks, from being posted.
ORIGINS OF THE PROBLEM
Before passage of House Bill 937, which became effective on October 1, 2013, guns were prohibited at "assemblies of people for which admission is charged." Since that section of NCGS 14-269.3 was changed to permit carry by those with concealed handgun permits, however, only private property owners hosting such assemblies may prohibit concealed carry. The state fairgrounds, of course, are not private property.
TROXLER'S DODGE
Although NCGS 14-269.3 specifically opens carry to permit-holders, Troxler claims "vague" language in the statutes enables the state to post under NCGS 14-269(a2), which says the state's general prohibition on concealed weapons, "does not apply to a person who has a concealed handgun permit issued in accordance with Article 54B of this Chapter, has a concealed handgun permit considered valid under G.S. 14-415.24, or is exempt from obtaining a permit pursuant to G.S. 14-415.25, provided the weapon is a handgun, is in a closed compartment or container within the person's locked vehicle, and the vehicle is in a parking area that is owned or leased by State government."
THE TRUTH
The section above merely enables permit-holders to keep guns in closed compartments of locked motor vehicles in state properties where guns are prohibited. It does not create a prohibition in itself.
In fact, NCGS 14-269.4 lists the specific state properties – such as the State Capitol, Governor's Executive Mansion" and courthouses – where guns are prohibited. That section does not include the state fairgrounds.
Even in the exceedingly unlikely event a court agreed that Troxler is allowed to post the fair, nothing requires him to do so. In short, his rationalization that he is just following what he has to do is false. Troxler is choosing to prohibit lawful concealed handgun permit-holders from protecting their families not only at the fair, but also in the parking lots outside the fair.
WHY IS THIS IMPORTANT?
As we've seen time and again, gun-free zones are dangerous places for law-abiding citizens. No family should be rendered entirely helpless should an event occur such as what happened at the Wisconsin State Fair in 2011. Dozens of teenagers and young adults attacked peaceful fairgoers as they left the fair. Eleven people were injured and thirty-one arrests were made. Criminals are always empowered when they know that their intended victims are disarmed. Posting against law-abiding gun owners is equivalent to a wink and a nod to the criminals who would prey on the now-defenseless families. Not an acceptable plan, Commissioner Troxler.
IMMEDIATE ACTION REQUIRED!
CALL COMMISSIONER TROXLER TOMORROW (Tuesday): Use this number: (919) 707-3000, and deliver this message:
"I'm calling because I just learned that Commissioner Troxler has plans to post the Fairgrounds against the lawful carry of firearms during the State Fair. I must inform you that posting the fairgrounds would be an illegal act on his part, and it would serve only to make the fair dangerous for law-abiding citizens. I insist that the Commissioner follow state law HB937, and leave the fairgrounds un-posted. Should he decide to flout the law, I will fully support any legal action that is taken against your department."
Note: If his representatives try to dodge by saying he is "forced" to post, use the facts above and let him know that it is his choice, not a requirement.
EMAIL COMMISSIONER TROXLER: Use the email address [email protected] and deliver the copy-and-paste message below. (Note: This email was derived from others in the department and tested, but not confirmed, so please make sure to use the comment form below as well.)
USE THE FOLLOWING COMMENT FORM: To ensure Troxler gets the message, use the following link by CLICKING HERE (http://www.ncagr.gov/htm/contactusform.htm). Use the copy/paste message below.
HELP FILE A LEGAL INJUNCTION: GRNC's non-profit sister organization, Rights Watch International (RWI), is right now preparing a filing for a temporary restraining order to prohibit posting the fair, but TIME IS SHORT. The fair begins on October 16! Please help RWI defray legal costs by CLICKING HERE (http://rightswatch.org/donate).
DELIVER THIS MESSAGE
Suggested Subject: "Posting the Fairgrounds is Illegal"

Dear Commissioner Troxler:

I have been informed that you plan to post the fairgrounds against the lawful carry of firearms during the State Fair. I am writing to inform you that this would be an illegal act on your part, and posting would have serious legal consequences. Aside from being unlawful, posting the fairgrounds would also place fair-going families in peril, while empowering the criminals who would prey on them. Please note that just three years ago, eleven fair-goers in Wisconsin were injured when attacked by dozens of thugs as they left the state fair.

You are a public servant, and as much as anyone else, you are required to obey the law. HB937, which went into effect on October 1, 2013, explicitly allows lawful concealed carry at assemblies that charge admission such as the North Carolina State Fair. If you are determined to flout the law, thereby thumbing your nose at citizens like me, I fully intend to support any legal action that may be necessary to bring you and your department in line with said law.

Do not post the North Carolina State Fair against the lawful carry of firearms. Doing so would be a costly mistake. I will continue to monitor this issue via alerts from Grass Roots North Carolina.

Respectfully,
About:Grass Roots North Carolina is an all-volunteer organization dedicated to preserving the freedoms guaranteed us by the Bill of Rights. Our main focus is the right to keep and bear arms. GRNC was central to drafting and passing North Carolina's concealed handgun law and since that time has continued to push for improvements to gun laws. Visit:www.grnc.org