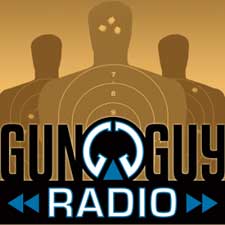 DeKalb, Illinois – -(Ammoland.com)- Jake's special guest on Gun Guy Radio this week is listener Mike Walsh. Have you ever wondered why some gun store employees have such poor attitudes? If you think local gun shops are difficult normally, just wait until you challenge their knowledge of a specific firearms and possible modifications… especially with information you found on the internet!
In Episode 134 of Gun Guy Radio, Mike and Jake discuss Mike quest to find a Glock 42 with the modifications discussed by Duncan on LooseRounds.com.
Two gun stores would not allow him to disassemble their Glock 42s to see whether the changes were present and both denied knowing about any changes made by Glock. Even after one of those store owners learned of the changes, he still denied Mike the opportunity to confirm that the changes had been made to his in-stock guns.
The tension between consumers and local guns stores as well as the changes to the Glock 42 are the topics of this great and timely episode of Gun Guy Radio.
On September 27, 2014, Gun Guy Radio and the Firearms Radio Network will be at theBullpup Shoot in Waterman, Illinois.  This is your chance to shoot full auto firearms, participate in a zombie shoot, and meet several of the FRN podcasting personalities.
Now you can support Gun Guy Radio via Patreon.  The Patreon program allows listeners to pledge an amount of support per episode. In exchange, GGR will periodically send you a token of thanks for your support.  The more you pledge, the more thanks you receive from GGR. You can pledge online atwww.patreon.com/gun.
The Gun Guy Radio giveaways have been a great success.  You can be entered for the next GGR giveaway by subscribing to the newsletter atwww.gunguyradio.com/winner.
Listen to the show atwww.gunguyradio.com/134 or subscribe to the show on iTunes to listen to any of the prior episodes.  Enter the Gun Guy Radio monthly giveaway atwww.gunguyradio.com/winner. Visit the Firearms Insider Community at www.firearmsinsider.tv.
About Gun Guy Radio:
Gun Guy Radio is an on demand talk show that stays positive and leaves out the politics. The podcast features a variety of popular guests that cover a wide range of topics that firearms enthusiasts crave. Each episode delivers entertainment, education and encouragement that expands firearm ownership and knowledge to the current and next generations. Gun Guy Radio is found on the Firearms Radio Network and releases every Sunday at 12:00 pm central time. Subscribe to the email list and listen via Apple iTunes, Stitcher Radio or www.gunguyradio.com.
Contact: Jake Challand President Firearms Radio Network Email:
[email protected]
Web:  
firearmsradio.tv