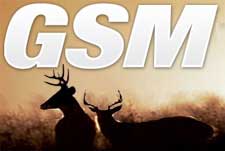 Grand Prairie, TX –-(Ammoland.com)- GSM, a company that delivers the latest in specialized products and technology, designed specifically with the outdoor sportsman in mind, is pleased to announce their participation in the Rocky Mountain Elk Foundation (RMEF) 2015 Event Merchandise catalog with several products under their vast umbrella of specialized products.
The products chosen from GSM that will be available this fall for banquet events that start early 2015 are the Cyclops MEVO Handheld Mini Spotlight, Cyclops Tilt Hat Camo Clip, Stealth Cam G-Series (G42NG) Trail Camera and Walker's Power Muff Quads.
"It is a huge compliment to have products chosen to be included in RMEF's Event Merchandise catalog", states Ben Smith, GSM's Marketing Manager.

"Individual chapters of the organization have the opportunity to use these products as fundraisers at their local banquets to further conservation in their area, which we fully support. The products that RMEF chose from our product line are perfect for avid hunters."
The Cyclops MEVO Handheld Mini Spotlight provides 255 lumens with a secondary 3 LED lower lumen output. It runs on four AA batteries with a 3-hour continuous run time on high beam.
The Cyclops Tilt Hat Camo Clip has two interchangeable heads and incorporates both white and green LED's. This compact gem has 45-degree tilting capabilities with a 30-lumen output. It is finished off with the NXT camo pattern for a sleek disguised look.
The Stealth Cam G-Series Trail Camera (G42NG) is a completely invisible NoGlo, 10MP camera featuring a 100-foot illumination range. The half-second trigger speed, matrix blur reductions technology, quick set features with back lit LCD screen, time lapse mode with motion sensor override and retina low light sensitivity. It supports SD cards up to 64GB, has video with audio (5-180 seconds), a secure 4 digit password protection, GEO-Tag GPS tagging, durable weatherproof camo housing. The camera operates on eight AA batteries (not included) and measures 5.5" high by 4.0" wide and 2.5" deep.
Walker's Power Muff Quads are specially treated with a NanoTech coating for electronics providing the ultimate protective shield against corrosion and water damage. The Muff is equipped with four wind resistant, high frequency stereo microphones for precise sound directionality. It has a 9x-hearing enhancement with 50db of power enabling the user to hear sounds he would not have heard without it. The Adjustable Frequency Tuning (AFT) allows the user to tune the muff to the frequency position that best matches the user's hearing. The AFT circuit is a feature that is exclusive to Walker's. Other features Walker's Power Muffs Quads include two independent volume controls and a noise reducing rating of NRR 24dB. The Digital Power Muff Quads have anti-microbial ear pads and operate on two AAA batteries (included).
About GSM:
GSM provides a wide range of outdoor related products from brands such as Stealth Cam & Wildview scouting cameras, EPIC point of view action cameras, Walker's Game Ear hearing protection & enhancement, Maestro & Western Rivers game calls, Cyclops portable lighting & power, American Hunter & Feeder Max feeders and SSI shooting accessories. They go to great lengths to ensure their products deliver the latest features and the rugged durability you demand. So whether you're a seasoned hunter or a weekend outdoor enthusiast, GSM has just what you need to make the most of your outdoor experience. For information regarding GSM and their products please visit www.gsmoutdoors.com. To become a dealer or have a sales representative contact you, please call (469) 586-0428.