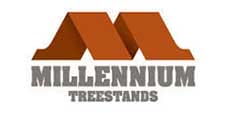 Pearl, MI -(Ammoland.com)- Hunters already rate the Millennium M Series as the most comfortable, most hunter-friendly hang-on stands on the market.
M Series stands range from the lightweight and affordable M25, designed for easy transport and quick set-up in the deepest woods, to the industry standard for hang-on stands-the M150 Monster. Also offered are the M-50 Steel and M100U. With four Millennium M Series stands to choose from, there's a perfect hang-on stand for every hunter.
Millennium also offers a great line of accessories, including the M101 Shooting Rest to convert your hang-on stand into a gun-hunters dream. The new M101 allows the hunter to easily attach a shooting rest to the popular M100, M100U or M150 Millennium lock-on stands. This padded shooting rail offers great stability for gun hunters lining up a shot out of their Millennium lock-on.
Also offered is the Chameleon Blind, an innovative way to get that shooting-house effect around your hang-on stand without the expense and hassle. This blind system weighs just 5 pounds and comes with a carry bag, and it is collapsible and installs in just three minutes. The Chameleon Blind features added weight and a drawstring at the base for stability on windy days. It includes a back liner to prevent shadowing for added concealment. The Chameleon Blind comes in specialized Gun and Bow models.
Need the perfect way to access your hang-on stand? The Millennium M210 Stick Ladder features five lightweight sections that connect quickly to form a stable, secure ladder. With a total weight of just 17 pounds, the M210 Stick Ladder is easily carried to a hotspot deep in the woods. It features an exclusive anti-slip step designed to provide increased traction. It won't freeze or hold water. With generous standouts and extra long cam straps, the ladder can fit just about any tree, regardless of shape and size.
About Millennium Treestands
Millennium Treestands have long been recognized as the most quiet and comfortable stands on the market. Every angle, hinge and weld has been tested under the most extreme conditions by the most cynical and scrutinizing hunters.