Lansing, Michigan – -(Ammoland.com)-  Small game hunting's popularity has waned over the years, while the focus of most sportsmen in the Midwest has centered on whitetail deer.
At the same time, however, there remains an under-utilized bonanza amid the woodlots and forests: squirrels.
Pursuing these acrobatic rodents has a way of making a hunter out of anyone – even youngsters. But, sportsmen must be able to wrap their minds around consuming them. I'll not attempt to persuade anyone to like their delicate, sweet meat's flavor, and frankly, if the concept is not for you, it'll be more for me. So be it.
I decided rather spontaneously to visit a familiar site not far from home replete with the nutty tree dwellers. At dawn, I settled into my pre-planned location with a relatively open view of surrounding mixed hardwoods in the heavily foliaged mid-September forest with the rising sun at my back. A lightweight chair was set up next to two trees only 30 inches apart with one forming an impromptu rest. The ground was cleared of debris for silence afoot.
The full-size Marlin lever-action Original Golden model 39A in .22 rimfire caliber, complete with a Leupold fixed 4 power rimfire scope and a piggy-back movie camera, could be maneuvered into resting position in any direction. The beauty of using a tree for a rest is that the shooter's hand can be placed anywhere naturally found to be comfortable – unlike bipods that must be carried and manipulated.
Although the seemingly never ending absence of .22 rimfire ammo is still with us, some of the high-end cartridges are readily available. The "trouble" with much of it in the eyes of some shooters is that it is sub-sonic and it costs much more than other production high velocity brands. Some may perceive it to be inadequate for humane kills; however, because of its inherent accuracy through strict quality control, it will certainly do the job, if first the operator does his.
My choice has long been 40-grain solid Lapua Center X for one reason: consistent accuracy. As a quick check, I weighed about 10 random cartridges and found them to be the same weight. On the contrary, a well-known big manufacturer's typical high-velocity product was weighed, as well, and the variance was eye opening. Is it any wonder that sometimes there are unexplained fliers?
If standard-velocity trajectory is a concern, I have found that if sighted in at 50 yards, the difference at 25 yards is inconsequential in terms of hunting, but it's still worth the time and effort to see how your firearm will print on paper at various ranges.
Next worth considering is the lack of noise emitted by any sub-sonic ammo. Because it does not break the sound barrier, like high or hyper velocity ammo, not only will it help to save your hearing, it will not startle surrounding wildlife to the extent faster fodder will. I'll get to that part later.
And, as is the case with any sub-sonic ammo, the velocity of the bullet is maintained better as a percentage over distance, than its hotter cousins, which shed velocity faster after the sonic boom is created.
The setup should be such that the hunter gains some advantage of a rest. Offhand shooting should be avoided, unless one is honestly good enough. And, that can be defined by answering in the affirmative that a given shot is a 9 out of 10 proposition. I'll take a rest any day, and fortunately, Mother Nature has generously placed them everywhere.
It's not run and gun or stomping around with a scattergun.
It's sit still, be quiet and wait for things to develop. And, if the killing power of standard-velocity target ammo is still questioned, consider the fact that it dropped an unsuspecting coyote in its tracks at 30 yards. And, the only reason it came that close to me was because of the ammo I had used to take 3 squirrels from the same chair that morning. Finally, I took one more bushytail that was barking its head off over the coyote incident and called it a morning at 9:05am.
Even though the .22 rimfire ammo hoarding continues, you may want to look twice at some of the top-shelf varieties, such as Eley, RWS, or my favorite, Lapua. No doubt you'll pay more, but the higher cost is what makes it less desirable to the average shooter and there for you.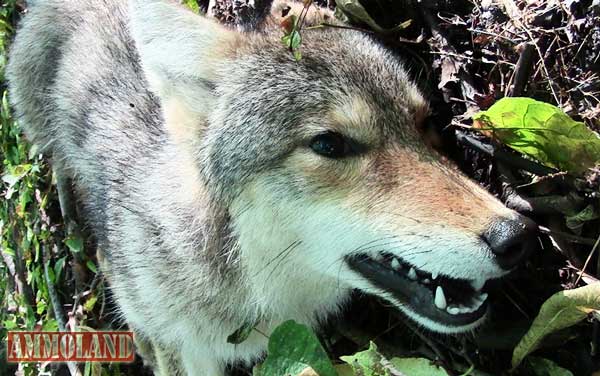 About Glen Wunderlich Charter Member Professional Outdoor Media Association (POMA). Outdoor writer and columnist for The Argus-Press (www.argus-press.com) and blog site at www.thinkingafield.org  Member National Rifle Association (NRA), Michigan United Conservation Clubs (MUCC), member U.S. Sportsmen's Alliance (USSA), Quality Deer Management Association (QDMA), Commemorative Bucks of Michigan (CBM). Adjutant of Perry, Michigan Sons of Amvets Post 4064 and Chairman Perry (MI) Youth Hunt Extravaganza, a sanctioned event of Perry Sons of Amvets held the third weekend of September each year.