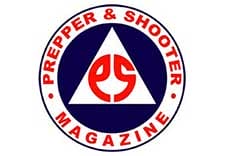 East Liverpool, OH -(Ammoland.com)- Prepper & Shooter Magazine has announced that rock legend and pro-Second Amendment prepper Mark Farner, formerly of Grand Funk Railroad, will be featured on the cover of its next magazine, set to hit newsstands in mid-October.
"It's always great to find a celebrity who is pro-Second Amendment, and Mark Farner is one of the most pro-Second Amendment ones out there," says Vincent L. DeNiro, Editor-in-Chief. "He's a strong patriot who stands up for what he believes in, and that includes gun-ownership, preparing for adverse situations and the greatness of this country."
Farner's pro-gun anthem "Don't Let 'Em Take Your Gun" was released in 1976, on Grand Funk Railroad's Good Singin,' Good Playin' album, but the lyrics are especially timely today, and Farner plans to re-release the title. In an interview with Farner, which will be featured in the magazine, he discussed how the song came to be, introducing Frank Zappa to firearms and the NRA, a few of his choices in firearms, his lifelong preparedness interests, and some of his political opinions.
"I've always been a fan of Grand Funk Railroad, and the song," reports DeNiro. "It was great to meet him for this interview and find out about his personal beliefs and values and about why he wrote the most pro-Second Amendment song in music history."
"Don't Let 'Em Take Your Gun" came into the limelight earlier this year when Prepper & Shooter Magazine released a story on its website about the importance of the song's powerful lyrics, which include: "So, if you want your freedom son, don't want your country to be overrun, you got to keep America number-one! My daddy told me son, don't let 'em take your gun!" and "Won't be nobody takin' over our land, if everybody's brother's got a gun in his hand!" Some gun-rights organizations have since adopted the song as their anthem.
Prepper & Shooter Magazine is greatly increasing production for this print run, as it has been selling out at Barnes & Noble and other retail outlets nationwide, and expects this issue to be in even higher demand with the addition of Farner to the line-up.
About Prepper & Shooter Magazine
Prepper & Shooter Magazine is a quarterly publication that covers all the topics vital to those interested in preparing for a variety of scenarios in which they would need to be self-reliant – such as natural or man-made disasters – in an assortment of product reviews, expert columnist pieces, interviews, instructional pieces and feature stories. The magazine, which is published by The Third Page Publishing Inc., is priced at $7.95 per issue and is available on newsstands and from the publisher.