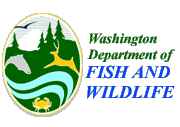 OLYMPIA, Washington –-(Ammoland.com)- A Stevens County rancher has moved his sheep away from the site where wolves killed at least two dozen of the animals in recent weeks.
Working through Labor Day weekend, rancher Dave Dashiell rounded up his flock of 1,800 sheep and herded them to temporary holding pens five miles away, and has begun trucking them to their winter pasture in the Columbia Basin.
Field staff from the Washington Department of Fish and Washington (WDFW) and 14 volunteers helped to round up the sheep and move them off the grazing land he leases from a private company about 50 miles northwest of Spokane.
Nate Pamplin, director of WDFW's wildlife program, said the rancher's decision to move his sheep earlier than usual will prevent further losses to his flock, but the department is cautioning other ranchers in the area to be vigilant as members of the Huckleberry pack move about their range.
"The threat to one rancher's flock has passed, but there are other ranchers and other livestock in that area," Pamplin said. "We need to make sure that the owners of those livestock operations – large and small – are aware of the pack's presence and are taking necessary precautions."
Pamplin said WDFW field staff will continue to monitor the movement of the Huckleberry pack and will contact other ranchers in the area to discuss appropriate protective measures, such as maintaining a human presence around their stock, using guard dogs, and removing animal carcasses whenever feasible.
On Aug. 22, at the height of the attacks on Dashiell's sheep, WDFW authorized the removal of up to four members of the Huckleberry wolf pack, one of 13 documented packs in the state. One female wolf was killed the next day by an aerial marksman contracted by the department. The department's wildlife veterinarian conducted a necropsy this week indicating the wolf was the pack's breeding female.
While other lethal measures were authorized, no other wolves have been removed.
"Lethal measures continue to be an option if the pack attacks other livestock, but we will consider that option only after reasonable preventive efforts have been made," Pamplin said.
He said WDFW has been contacted by many citizens, both opposing and supporting the department's use of lethal measures to protect the rancher's sheep.
"Wolf management generates strong feelings on all sides," Pamplin said. "We respect those feelings and will continue to do our utmost to ensure the recovery of wolves in Washington while working with ranchers to avoid and minimize conflicts with these animals."