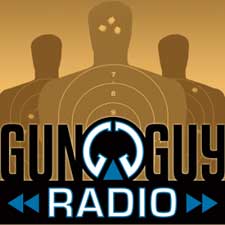 DeKalb, Illinois –-(Ammoland.com)-  From the moment it entered the firearms industry TrackingPoint has been a company that generated high technology firearms components and a controversial buzz to go with it.
Does the use of a TrackingPoint scope result in less ethical hunting by reducing or eliminating fair chase?
Is the use of a TrackingPoint scope more ethical because of the greater likelihood of a clean kill?
Does TrackingPoint eliminate the need to practice markmanship? Is the use of TrackingPoint software justifiably causing concerns among Second Amendment advocates?
In Episode 132 of Gun Guy Radio Jake Challand addresses these issues, in addition to learning about the incredible technology behind the TrackingPoint system, with Scott Calvin.
The TrackingPoint system is a Linux driven system that calculates and accounts for virtually all environmental variables that will affect the shot. It allows for longer and more accurate shots even on moving targets.  The scope is zeroed every time it is turned on and the scope allows for the shooter's view to be viewed and recorded on a mobile device via a wifi system that is integral to the scope. One concern that has recently arisen is TrackingPoint's patent on a system that will allow firearms to be disabled when within a school zone.  Scott explains that this patent was obtained, not to further gun control, but to prevent that technology from falling into the hands of anti-second amendment advocates.
TrackingPoint rifles are built on either a Remington 700 or and AR-15 style action.  The 1000 Series is designed to be accurate out to 1000 yards and comes in either .338 Lapua and .300 Win. Mag. For a more "tactical" look, consumers have the choice of the Accuracy International chasis. The Hunter model comes with a McMillan A5 stock.  The 750 Series, which is designed for use up to 750 yards is similar, but comes in a lighter weight package in either .338 Lapua or .308 Win.  Finally, the AR Series employes the AR-15 platform with a TrackingPoint scope in 5.56×45, 7.62×51, .300 AAC Blackout, and .300 Win. Mag.
Do not miss this informative and entertaining interview on Gun Guy Radio.
On September 27, 2014, Gun Guy Radio and the Firearms Radio Network will be at theBullpup Shoot in Waterman, Illinois.  This is your chance to shoot full auto firearms, participate in a zombie shoot, and meet several of the FRN podcasting personalities.
Now you can support Gun Guy Radio via Patreon.  The Patreon program allows listeners to pledge an amount of support per episode. In exchange, GGR will periodically send you a token of thanks for your support.  The more you pledge, the more thanks you receive from GGR. You can pledge online atwww.patreon.com/gun.
The Gun Guy Radio giveaways have been a great success.  You can be entered for the next GGR giveaway by subscribing to the newsletter atwww.gunguyradio.com/winner.
Listen to the show at www.gunguyradio.com/132 or subscribe to the show on iTunes to listen to any of the prior episodes.  Enter the Gun Guy Radio monthly giveaway atwww.gunguyradio.com/winner. Visit the Firearms Insider Community at www.firearmsinsider.tv.
About Gun Guy Radio:
Gun Guy Radio is an on demand talk show that stays positive and leaves out the politics. The podcast features a variety of popular guests that cover a wide range of topics that firearms enthusiasts crave. Each episode delivers entertainment, education and encouragement that expands firearm ownership and knowledge to the current and next generations. Gun Guy Radio is found on the Firearms Radio Network and releases every Sunday at 12:00 pm central time. Subscribe to the email list and listen via Apple iTunes, Stitcher Radio or www.gunguyradio.com.
Contact: Jake Challand President Firearms Radio Network Email:
[email protected]
Web:  
firearmsradio.tv