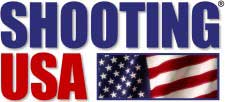 USA – -(Ammoland.com)- Shooting USA – The U.S. Steel Nationals 2014
Draw and shoot 5 steel targets. That's the challenge for the fastest pistol shooters in the nation, running all out for the title of National Champion in the U.S. Steel Nationals from Florida. Plus, the secrets behind the movie guns. John Scoutten is at ISS to learn how they make them look so real, safely. And John Paul explains your choices of rifle scope zero and how to choose.
Shooting USA's Impossible Shots – History Reflected
Todd Jarrett plans to make history with a shooting first—two guns, two targets, and two mirrors. Todd's ready, but an unlikely problem could derail his run at making the history books. Then a classic shot from an old friend. Bob Munden, with his Colt Single Action Army, shooting smaller and smaller aerial targets.
AIR TIMES BY TIME ZONE
The Shooting USA Hour Wednesdays:
Eastern Time: 3:30PM, 9:00PM, 12:00 Midnight
Central Time: 2:30 PM, 8:00 PM, 11:00 PM
Mountain Time: 1:30 PM, 7:00 PM, 10:00 PM
Pacific Time: 12:30PM, 6:00 PM, 9:00 PM

Shooting USA is listed as a one hour show in your cable menu.
Shooting USA's Impossible Shots:
Eastern Time: 3:30AM, 3:00 PM, 11:00 PM, 2:30AM Thursday
Central Time: 2:30AM, 2:00 PM, 10:00 PM, 1:30 AM Thursday
Mountain Time: 1:30AM, 1:00PM, 9:00 PM, 12:30 AM
Pacific Time: 12:30AM, Noon, 8:00 PM, 11:30 PM
IDPA, NMLRA & Trevor
It's a week of National Championships! First, Mike Irvine and crew take off to Tulsa, Oklahoma, for the IDPA U.S. National Championship. Then, the sport and heritage of muzzle loading is front and center at the NMLRA National Championship Shoot in Friendship, Indiana, with our crew arriving this weekend. Finally, it's a short trip to Kentucky where Trevor Baucom hosts a family day for Wounded Warriors and Disabled Veterans for HAVA on Saturday. Be sure to say "hi" to our crews!
Are You Connected?
Follow our crews on the Shooting USA Show Page on Facebook: https://www.facebook.com/JimScoutten.ShootingUSA?ref=br_tf
Jim Defending the 2nd by Example in the 21st Year
www.ShootingUSA.com