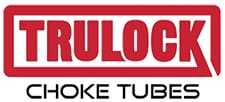 Whigham, GA -(Ammoland.com)- Trulock Chokes understands that the true sportsman requires choke tubes for more than just hunting.
Sporting clays are also a popular target, and Trulock has the perfect chokes for that purpose. Sporting clay and five-stand shooting activities require dead-on patterns. So Trulock has developed chokes specifically designed to help pattern a gun for shooting at these types of targets.
All sporting clay chokes are knurled, extended choke tubes with a stainless-steel finish. They are available in a variety of sizes and gauges to fit most shotguns. Normally a round of sporting clays or five-stand is shot using three different choke constrictions. A close-range choke, such as Trulock's Cylinder, Skeet 1 or Improved Cylinder chokes, a mid-range choke, such as Skeet 2 (Lite Mod) or Modified chokes, and a longer range choke such as Improved Modified, Full or Ex Full chokes, are used. The three most popular Trulock choke constrictions for sporting clays are Skeet 1, Skeet 2 (Lite Mod) and Improved Modified chokes.
Just like all Trulock choke tubes, the chokes for sporting clays and skeet shooting are crafted on CNC lathes from 17-4 PH grade stainless-steel solid bar stock – never welded tubing. These choke tubes are knurled for easy installation and don't require a wrench. All chokes have a high resistance to staining and rust and are backed by Trulock's lifetime guarantee.
Improve your shooting score with a Trulock Choke Tube for your sporting clay or five-stand gun, and blow the competition away with superior patterning.
About Trulock Chokes
Trulock Chokes, founded by George TruLock, is a Georgia based company. They manufacture chokes under the Trulock brands well as serving as an O.E.M. for many firearms companies. Trulock is the number one source for quality chokes and, as always, you will get specialized attention when dealing with them. Proudly made in the U.S., their choke tubes are guaranteed to improve your gun's performance.