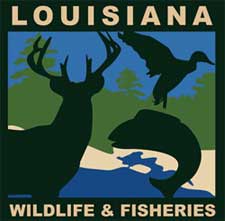 Abbeville, LA -(Ammoland.com)- The Benton Elementary School archery team that won the 2014 National Archery in the Schools Program (NASP) World Tournament this summer was honored during the September Louisiana Wildlife and Fisheries Commission meeting.
The Benton team, comprised of 24 fourth and fifth graders and one third grader, were invited to compete at the World Tournament in July in Madison, Wisconsin. They were the first Louisiana team to qualify for the World Tournament and did so by finishing in eighth place at the NASP National Tournament held in Louisville, Kentucky in May.
At the World Tournament, the Benton team tallied a score 66 points higher than their National Tournament score to achieve the World Champion trophy. In order to participate at the National Tournament, teams and individuals had to qualify at the Archery in Louisiana Schools (ALAS) State Tournament in March. The ALAS program is sponsored by the Louisiana Department of Wildlife and Fisheries and is available to all schools in Louisiana. The program teaches international target style archery to students in grades 4-12.
The NASP began in Kentucky back in late 2001 and has since spread to 47 states, seven Canadian provinces, South Africa, New Zealand, Mongolia and Australia. Since its inception 13 years ago, the NASP program has positively affected the lives of over 13 million students in over 12,000 schools in the U.S.
More than 100 Louisiana schools are enrolled in the ALAS program and more are being added each year. In the past three years, the ALAS state tournament has more than tripled in competitor numbers.
Schools placing first at the state tournament as a team and those who shoot a qualifying team score are eligible to participate in the NASP National Tournament in Louisville, Kentucky. Individuals who qualify in the top ten at state are also eligible to compete at Nationals.
About The Louisiana Department of Wildlife and Fisheries (LDWF)
The Department of Wildlife and Fisheries is charged with managing and protecting Louisiana's abundant natural resources. The LDWF's mission is to manage, conserve, and promote wise utilization of Louisiana's renewable fish and wildlife resources and their supporting habitats through replenishment, protection, enhancement, research, development, and education for the social and economic benefit of current and future generations; to provide opportunities for knowledge of and use and enjoyment of these resources; and to promote a safe and healthy environment for the users of the resources.