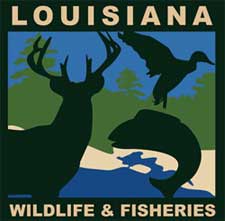 Abbeville, LA -(Ammoland.com)- Louisiana Department of Wildlife and Fisheries Enforcement Division agents cited a Deville man for alleged deer hunting violations on Oct. 11 in Bienville Parish.
Agents cited Paul D. Deville, 58, for taking spotted fawns, possessing over the limit of deer, failing to maintain the deer's sex identification and failing to comply with deer tagging or harvest record regulations. Agents received a complaint that a man had taken three deer two of which were spotted fawns. Agents responded at the location and found Deville in possession of three deer.
Deville kept the head of a mature antlerless deer for sex identification, but hid other parts from the other two deer in a wooded area behind the camp. Agents located the heads and hides of all three deer and were able to identify two of the deer as spotted fawns. Agents found that Deville did not tag any of the deer.
Agents seized all three deer and three of Deville's antlerless deer tags.
Taking spotted fawns brings a $500 to $750 fine and 15 to 30 days in jail. Possessing over the legal limit of deer and failing to maintain the sex identification of the deer carries a $250 to $500 fine and up to 90 days in jail for each offense. Failing to comply with deer tagging regulations brings a $100 to $350 fine and up to 60 days in jail.
Agents involved in the case are Sgt. Mike Kelley, Sgt. Chuck Dison and Senior Agent Bryant Coburn.
About The Louisiana Department of Wildlife and Fisheries (LDWF)
The Department of Wildlife and Fisheries is charged with managing and protecting Louisiana's abundant natural resources. The LDWF's mission is to manage, conserve, and promote wise utilization of Louisiana's renewable fish and wildlife resources and their supporting habitats through replenishment, protection, enhancement, research, development, and education for the social and economic benefit of current and future generations; to provide opportunities for knowledge of and use and enjoyment of these resources; and to promote a safe and healthy environment for the users of the resources.