Through this program, physical education students will be given an opportunity to become involved in a life skill that has no barriers.
Photo courtesy of the West Virginia Division of Natural Resources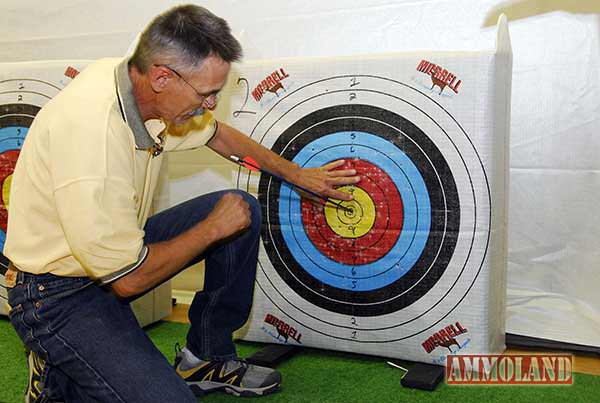 Clarksburg, WV -(Ammoland.com)- The West Virginia Division of Natural Resources Wildlife Resources Section (WVDNR) will hold its next instructor training for the Archery in the Schools (AIS) Program Dec. 4 at the Bow Shop in Clarksburg, according to Krista Snodgrass, program coordinator.
Since its inception in 2004, AIS has become the DNR's largest educational program introducing archery to more than 90,000 students as part of their physical education (PE) classes in more than 300 West Virginia schools. The program teaches Olympic-style, target archery in both public and private schools Grades 4 through 12.
"The Bow Shop is looking forward to hosting this training in the Clarksburg area for more teachers to get certified to teach archery in the schools," said Harold Cogar, owner. "We are very excited about providing our facility to a program that is getting more youth involved in an activity that teaches a skill that can be taken with them beyond the classroom."
"In order for schools to have the AIS Program, they must first have a certified instructor – preferably a physical education instructor or coach who will introduce as many children as possible to the joys of target archery," said Snodgrass.
WVDNR only has about four trainings a year and, because class size is limited to 25, training slots are highly desired. As an added incentive, teachers taking this training may be eligible to receive Continuing Education Hours (CEHs) – provided they submit their paperwork to their principal before the end of the school year.
To ensure a training slot, anyone interested in getting a school involved in the program is encouraged to apply by Nov. 21. The registration fee is $25 for school employees and $50 for non-school employees. Payment is due the morning of registration by check, money order or cash.
To register for the AIS training at The Bow Shop, please call Krista Snodgrass at 304-558-2771, email [email protected], or visit the DNR's AIS website.
The deadline to register for the next instructor training for the Archery in the Schools Program is Nov. 21.
About the West Virginia Division of Natural Resources (WVDNR)
It is the statutory mission of the West Virginia Division of Natural Resources (WVDNR) to provide and administer a long-range comprehensive program for the exploration, conservation, development, protection, enjoyment and use of the natural resources of the State of West Virginia.