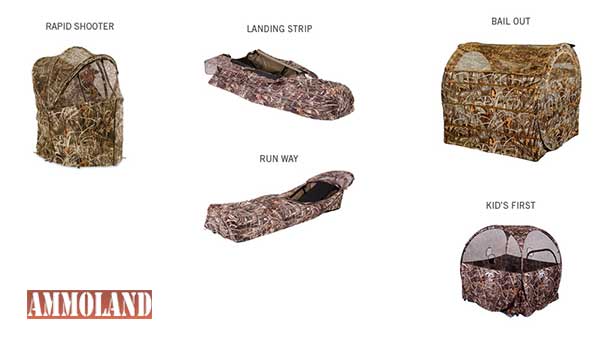 Columbus, GA -(Ammoland.com)- Any fan of the Duck Commander hunting videos has watched in envy the permanent blinds the Robinson clan often hunts from on their Louisiana property.
Serious waterfowl hunters also know there are situations where a permanent blind isn't a possibility-or it's simply not the best option. To kill ducks, you need to hunt where the ducks want to be. That's when the Duck Commander line of waterfowl blinds, made by Ameristep, can be a hunter's No.1 tool.
There is a Duck Commander blind for any waterfowl-hunting situation, from low-profile layout blinds for fields to roomy, full-concealment pop-up blinds in the dark timber. Ameristep even offers a hay bale blind.
See which of the Buck Commander waterfowl blinds from Ameristep is right for your hunting situation.
Duck Commander Rapid Shooter Chair Blind
This blind and chair combination is perfect when cover is sparse and a single hunter needs full concealment. The blinds features a rip-cord release for rapid opening when the birds are in range, and it has a very quick magnetic closure system to get hidden again when the shooting is over.
Duck Commander Landing Strip Blind
This lay-out style blind is great for a variety of waterfowl hunting situations, from an open field with no cover to the edge of a marsh-or even a pothole where the ducks are wary. Features of this quality blind include Realtree Max-4 Camo designed for waterfowl habitats, tough 600D polyester fabric, a full-length padded seat and headrest, and a heavy-duty aluminum frame with steel reinforced joints. The frame can be adjusted for a total of six profile settings.
Duck Commander Run Way Blind
Hunters not needing quite all the features of the top-of-the-line layout blind, but who still want comfort and concealment at a great price should check out the Run Way Blind. This quality blind includes Realtree Max-4 Camo, 600D polyester fabric, a full-length padded seat and headrest and a heavy-duty aluminum frame.
Duck Commander Bail Out Hay Bale Blind
Ever watched ducks or geese work an open field and wonder how in the world you could stay hidden enough behind a hay bale to hunt them? Try hunting from inside a hay bale! The Duck Commander Bail Out Hay Bale Blind includes a backpack carrying case to make it easy to transport to the field. It also features a rip-cord release for rapid opening of the top third of the blind. Integral brush pockets allow for the addition of natural cover for even better concealment. And this blind isn't just for waterfowlers-side and rear windows are perfect for deer and turkey hunting.
Duck Commander Kid's 1st Blind
Looking for the perfect gift for the future waterfowl hunter in the house? The Duck Commander Kid's 1st Blind will entertain the youngsters in the playroom and yard, and it will conceal them in duck swamp. The blind has a 36-inch footprint and is 36 inches tall. A spring steel design allows for easy set up and take down. The blind comes standard in Realtree Max-4 Camo.
For more information on the line of Duck Commander Waterfowl Blinds from Ameristep, or to find a retailer near you, visit Ameristep.
About AMERISTEP
AMERISTEP is the premier manufacturer of tree stands, ground blinds, safety harnesses and other useful hunting accessories with an excess of 100 products in its catalog. As a frontrunner in several competitive product spaces, AMERISTEP has led the charge toward the development of many of the hunting industry's most functional and well-known products. With a strong commitment to the future and deep roots in the past, the brand continues to polish their pedigree as a time-honored trendsetter. For more information, contact: Evolved Ingenuity, 602 Fountain Parkway, Grand Prairie, TX 75050.