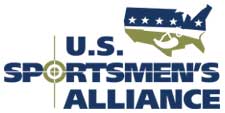 Columbus, OH –-(Ammoland.com)-Campaign finance reports filed Oct. 6 paint a clear and disturbing picture.
The effort to ban Maine's most effective bear hunting methods is being financed and controlled by one Washington D.C. special interest group, the Humane Society of the United States (HSUS).
HSUS, along with its lobbying arm, the Humane Society Legislative Fund (HSLF), have pumped more than $2 million into a ballot campaign committee ironically called Mainers for Fair Bear Hunting. The campaign committee is being managed by HSUS employee, Katie Hansberry. Further, HSUS is directly responsible for more than 97 percent of the $2.1 million raised, leaving only $57,000 from all other sources combined.
"Many Maine voters are outraged by this transparent effort of an outside group to buy an election," said Evan Heusinkveld, USSA vice president of government affairs. "It's clear that HSUS is willing to dig deep into their coffers to pursue their radical agenda that will put Mainers at a real safety risk."
The problem is that many Maine voters are unaware. For generations, investigative journalists have been the equalizing factor between powerful people, corporations, organizations and the public. Ever since two young reporters working for the Washington Post brought down the most powerful man in the world, journalists have earned their stripes making sure that Americans know who and what is behind the curtain.
Within weeks of George Soros, and his organization, MoveOn.org, pouring unprecedented amounts of cash into elections backing democrats and progressive causes, the public was made aware of where he came from, where his money came from, and most importantly, what he stood for. Just a few short years later, conservatives countered with the Koch brothers. Their contributions to organizations such as Americans for Prosperity were widely reported and scrutinized by the media. In both cases, and many others like them, local newspapers, investigative reporters and the national media aggressively sought the truth about who was bankrolling elections and influencing important policy issues. But in Maine, the media has been silent on the issue.
"The truth of the matter is that we're seeing the world's largest animal rights group almost fully funding a ballot issue in Maine, and no one in the media has raised an eyebrow," continued Heusinkveld. "If George Soros or the Koch Brothers were attempting to buy the bear issue, you'd have to think the media would cover that. Why is this any different? Why is HSUS getting a free pass?"
If you live in or visit Maine you need to get the word out to your fellow voters.
About:The U.S. Sportsmen's Alliance is a national association of sportsmen and sportsmen's organizations that protects the rights of hunters, anglers and trappers in the courts, legislatures, at the ballot, in Congress and through public education programs. Visit www.ussportsmen.org.