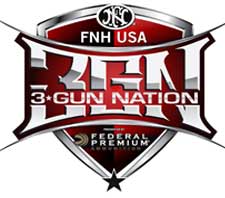 USA –-(Ammoland.com)- U.S. Shooting Academy –-(Ammoland.com)- Lena Miculek came to Tulsa on a mission—to repeat as the 3GN Lady Pro Series Champion. The young lady was dominant throughout this second year of the 3GN Lady Pro Series, with another top performance turned in before a crowd a spectators as Miculek took home the title once again.
Miculek defeated Dianna Liedorff two bouts to none to repeat as 3GN Lady Pro Series Champion. For her efforts, the young Miculek once again took home the largest cash payout for ladies in all the sport—$25,000 from Samson Manufacturing.
Miculek started the tournament out hot, cruising to an opening-round win against Maggie Reese in straight bouts, 2-0. Then in the semi-finals, Miculek again had little trouble, jumping out to huge leads she carried through to the stop plate against 3GN Lady Pro Series rookie Jana Reeves, setting up the finals showdown with Liedorff.
Liedorff opened her 3GN Shoot-Off against relative newcomer and 3GN Lady Pro Series rookie Stephanie Payne, the wife of U.S. AMU shooter Tyler Payne. Liedorff's experience showed through, as she jumped out to a lead on the shotgun, widened the gap on rifle, and was steady through pistol in both bouts to advance 2-0.
In the semi-finals, Liedorff faced off against her old 3GN Shoot-Off nemesis in Kay Miculek. It was the elder Miculek that knocked Liedorff out of the event in 2012 and 2013, a streak Liedorff finally ended in the semi-finals last season in Las Vegas. On this day, Liedorff was much more dialed in, leading throughout all three arrays on her way to a 2-0 victory, setting up her second consecutive 3GN Lady Pro Series final against L. Miculek.
In the opening round, Reeves notched an impressive upset victory over Comp-Tac's Randi Rogers, an exciting matchup that went to a deciding third bout. In the opening run, it was Rogers that jumped out to the early lead, gaining a one-plate advantage coming out of rifle, a lead she widened to two plates by the time she knocked over the pistol stop plate. In the second bout, however, it was Reeves that jumped out to the early lead on rifle and shotgun, as she held on to hold Rogers off with the pistol. Then in the deciding third bout, Rogers suffered a gun jam with the rifle that helped create a huge lead for Reeves, one she carried through the stop plate to advance 2-1.
Also in the first round, K. Miculek faced off against another 3GN Lady Pro Series rookie, Becky Yackley. In the opening bout, Yackley jumped out to a big lead on rifle and shotgun, before K. Miculek regrouped and put together an inspired pistol array to overtake Yackley before the stop plate. Then as the firing line was being cleared, it was apparent that Yackley had grounded her shotgun outside of the dump box, which by rule is an event disqualification, automatically advancing K. Miculek into the semi-finals.
Along with the cash payout for $25,000 from Samson Manufacturing, the 3GN Lady Pro Series Championship prize table featured products from Aero Precision, Rise Armament, Magpul, and Italian Gun Grease. Each competitor also received a firearm from Benelli and a Stoeger air rifle.
The 3GN Championship, Rumble on the Range, was sponsored by FNH USA, Leupold Optics, Remington, Bushmaster, Comp-Tac, Timney Triggers, Stag Arms, Magpul, Aero Precision, DPMS, Para USA, Samson Manufacturing, Ruger, Rise Armament, XRAIL by RCI, and Italian Gun Grease.
The event was open to the public, featuring a machine gun shoot, demo bay and arguably the hottest attraction of the day—the 3-Gun Side Shoot, presented by Remington, DPMS, Para USA and Leupold Optics. Spectators lined up to take their shot at the sport of 3-Gun, with one lucky fan walking away with a brand new DPMS rifle.
The 3GN Championship was filmed for broadcast later this year on Sportsman Channel and Pursuit Network. To see local Tulsa coverage of the event, go to http://www.tulsaworld.com/sportsextra/outdoors/bullets-shooters-fly-at–gun-event/article_bd08f4ea-fee8-5aba-b54c-73d068cb3af5.html.
For more information, go to 3GunNation.com.