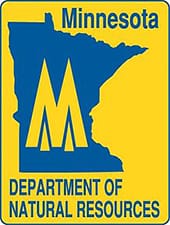 St. Paul, MN -(Ammoland.com)- Before venturing into the woods this fall, hunters, trappers and other recreationists are encouraged to review the changes to some trail designations in Pine County.
The areas include trails located on state lands in the Nemadji, General Andrews, Chengwatana and St. Croix state forests. The changes result from a statewide review and public input process intended to improve trail sustainability and enhance user experiences for both motorized and non-motorized use.
Changes were made to a number of trails that designated or undesignated them as off-highway vehicle (OHV) trails and established new hunter walking trails. Those changes took effect Jan. 1. One designation change not well understood is the area with limitations (AWL) designation, which is intended to protect sensitive areas from overuse or discourage off-trail travel.
In areas with this designation, the normal hunter and trapper exemption doesn't apply. Hunters and trappers traveling by OHV are not allowed to go off trail in these areas or use undesignated trails even to retrieve game. Motorized vehicles are only allowed on designated roads and trails that are clearly posted or mapped for motorized use.
"Wherever feasible, an effort was made to incorporate mowed hunter walking trails within the AWL boundaries to enhance walk-in access and allow game retrieval with a hand cart," said DNR Wildlife Manager Chris Balzer. "The changes may require some hunters to change their hunting style, but for hunters who prefer a quieter place to hunt without OHV traffic, they should definitely check out these areas."
Forest users who would like to know more about these changes, including a written overview and detailed maps, can go to www.dnr.state.mn.us/input/mgmtplans/ohv/designation/revisions.html.
About the Minnesota Department of Natural Resources (MNDNR)
The Minnesota Department of Natural Resources is the agency of the U.S. state of Minnesota charged with conserving and managing the state's natural resources. The agency maintains areas such as state parks, state forests, recreational trails, and recreation areas as well as managing minerals, wildlife, and forestry. The agency is currently divided into sections Ecological Resources, Enforcement, Fish & Wildlife, Forestry, Lands and Minerals, Waterways, Parks and Trails, and Waters.