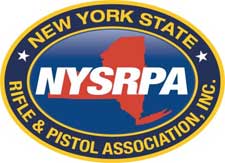 New York –-(Ammoland.com)- The New York State Rifle & Pistol Association Political Victory Fund is pleased to endorse Tom Croci for State Senate in the 3rd District.
Our endorsement is based upon his candidate questionnaire and opposition to the so-called SAFE Act.
In making the announcement NYSRPA President Thomas King said, "Tom Croci has made an effort to reach out to area gun owners and understand their issues while his opponent did not even bother to return our candidate questionnaire. In light of this, it is not that difficult to figure out which candidate is more likely to respect our civil rights and which one is not."
NYSRPA encourages all concerned citizens to support Tom Croci on election day.
About:
The New York State Rifle & Pistol Association is the state's largest and oldest firearms advocacy organization. Since 1871, our organization has been dedicated to the preservation of Second Amendment rights, firearm safety, education and training, and the shooting sports. Our membership consists of individuals and clubs throughout the state. We are a not-for-profit 501(c)4 organization and the official NRA-affiliated State Association in New York. Visit: www.nysrpa.org