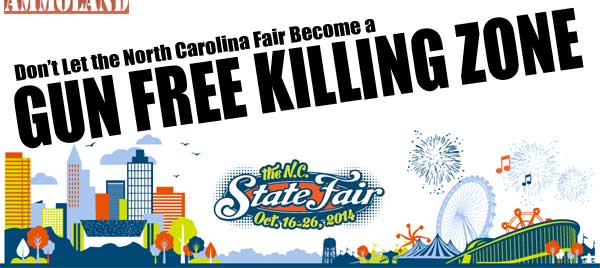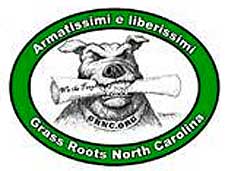 North Carolina –-(Ammoland.com)-After vowing to disarm all law-abiding citizens at the State Fair, NC Agriculture Commissioner Steve Troxler promised fairgoers that security at the Fair would be top-notch.
Unfortunately, politicians will say anything that is convenient at the moment to get what they want, but they rarely see a need to follow through. This instance seems to be no different.
Reports from fair-going families are now rolling in, and they are telling us that security at the Fair is little more than pretense. Fairgoers have reported going through metal detectors with all sorts of metal objects in their pockets, and the detectors did not react. They've been asked if they have any weapons, and a simple "no" has sufficed. At other times, metal detectors seem to have been turned off entirely, and bags were often not searched when it would have seemed necessary. Of course, most people passing through Troxler's lax security apparatus are just nice people who are there to have fun. However, slack security does tell us that anyone who is a danger to North Carolina families will have little problem moving in and around the fair with weapons. And now, they can do this with confidence, knowing that Commissioner Troxler has kindly disarmed all of their potential victims.
With that in mind, note that Police Chief Joel Keith's promise of uniformed police escorts on demand also seems to be hit and miss (mostly miss). Some fairgoers in need of an escort to or from their vehicle have been flat refused. It seems that some officers are either unaware of Keith's promise, or just unwilling to assist vulnerable fairgoers. As was feared, Troxler's promise that safety at the fair will be a priority was just talk—talk he used to disarm North Carolina families. Funny all of that, since as recently as Tuesday, Troxler said:
"I want to refocus today on what the state fair is. The state fair is about being safe."
After fighting hard to deny NC citizens their Second Amendment rights, Troxler has added insult to injury by failing to follow through on his promise of vigilant security at the Fair. Below, see how you can easily contact Commissioner Troxler to tell him that you don't appreciate him thumbing his nose at NC gun owners, and you certainly don't appreciate him putting your family in danger with his unnecessary "gun-free" zone.
IMMEDIATE ACTION REQUIRED!
CALL COMMISSIONER TROXLER: Use this number: (919) 707-3000, and deliver this message:
I'm calling to express my disappointment in Commissioner Troxler's security arrangements at the State Fair. After fighting so hard to deny fairgoers their Second Amendment rights, the commissioner has added insult to injury by failing to follow through on his promise of vigilant security. I understand that metal detectors are barely working, bags are not being searched when necessary, and citizens have been denied the police escorts that were promised to them. Please inform the Commissioner that I am taking note of his lack of follow-through on his promise, and the fact that the gun-free zone he has unnecessarily created has put my family at risk. Thank you.
EMAIL COMMISSIONER TROXLER: Use the email address [email protected] and deliver the copy-and-paste message below. (Note: This email was derived from others in the department and tested, but not confirmed, so please make sure to use the comment form below as well.)
USE THE FOLLOWING COMMENT FORM: To ensure Troxler gets the message, use the following link by CLICKING HERE (https://www.ncagr.gov/htm/contactusform.htm). Use the copy/paste message below.
DELIVER THIS MESSAGE
Suggested Subject: "Why is Fair Security so Lax?"

Dear Commissioner Troxler:

I am writing to express my severe disappointment in the security arrangements at the State Fair.

After fighting so hard to deny law-abiding fairgoers their Second Amendment rights, you have added insult to injury by failing to follow through on your promise of vigilant security. I understand that metal detectors are barely working, bags are not being searched when seemingly necessary, and citizens have been denied police escorts when they were requested, escorts that were promised to them. This is not acceptable.

I am only one of many thousands of North Carolina gun owners who are taking note of your attack on gun rights, as well your lack of follow-through on your promises.

I will continue to monitor this issue via alerts from Grass Roots North Carolina.

Sincerely,
About:Grass Roots North Carolina is an all-volunteer organization dedicated to preserving the freedoms guaranteed us by the Bill of Rights. Our main focus is the right to keep and bear arms. GRNC was central to drafting and passing North Carolina's concealed handgun law and since that time has continued to push for improvements to gun laws. Visit:www.grnc.org