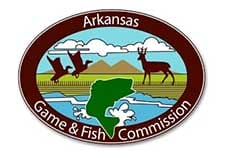 Little Rock, AR -(Ammoland.com)- A five-day hunt for antlerless deer begins on Saturday, Oct. 11, for much of Arkansas.
It is another component of the Arkansas Game and Fish Commission's Total Herd Management Program that is showing significant results. The hunt is only for private land, not for federal and state lands like wildlife management areas, wildlife refuges and national forests. Lands leased from timber companies are considered private land.
This special hunt was launched several years ago as a means to bring the buck-doe harvest ratio of Arkansas nearer the desired 50-50 status. Last season was a success on this point as slightly more does than bucks were checked by hunters for the first time in the state's history.
The Oct. 11-15 hunt is open over much of the state. Deer zones open for the hunt are 1, 1A, 2, 3, 6, 6A, 8, 8A, 9, 10, 12, 13, 14, 15, 16, 16A and 17. Deer zones closed are 4, 4A, 4B, 5, 5A, 5B, 7 and 11.
The term antlerless means doe deer and button or "nubbin" bucks – male deer with antlers that have not grown through the skin. Hunters many times cannot see the bumps on a deer's head where antlers will eventually sprout, and they shoot these deer. Button bucks are legal to take, and they must be checked as bucks, not as does. Bucks with antlers longer than 2 inches are not legal to take in the antlerless hunt. Hunters are encouraged to be certain of their target to ensure no bucks are accidently harvested during the antlerless only hunt.
In the five-day antlerless hunt, modern guns, archery and muzzle-loaders can be used. Hunter orange must be worn by persons using any type weapons. Deer must be checked within 24 hours by phone calls to 866-305-0808, by smart phone applications or online to AGFC.
Deer taken during this hunt count toward a hunter's season limit, including zone limits and the statewide six-deer limit. A hunter reaching the limit for one zone can move to another zone and take more deer until reaching the total of six.
Hunting hours are the traditional 30 minutes before sunrise to 30 minutes after sunset.
About The Arkansas Game and Fish Commission (AGFC)
The Arkansas Game and Fish Commission plays an important role in keeping The Natural State true to its name. During the last 100 years, the agency has overseen the protection, conservation and preservation of various species of fish and wildlife in Arkansas. This is done through habitat management, fish stocking, hunting and fishing regulations, and a host of other programs.