Winner to go on Five-Day African Hunt to Namibia and Receive Unprecedented Gear Package From Top Industry Sponsors!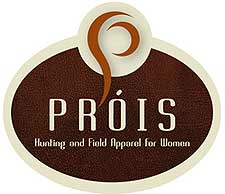 USA – -(Ammoland.com)- It's time! Próis has announced its 2014 Próis Awards contest is officially open for submissions.
The hunting and field apparel company is inviting all dedicated female hunters to enter their personal stories about hunting and conservation to win big, really big.
This year's winner will go on a two-species hunt in Namibia, Africa with Mogwadiri Safaris in 2016. So get moving and put pen to paper – or fingertips to keyboard – and wow us with your story!
"The Próis Awards are all about celebrating and recognizing the most dedicated female hunters around," said Kirstie Pike, CEO of Próis Hunting & Field Apparel. "The number of female hunters is growing and we are pumped to see this evidenced by the increasing number of entries we receive year after year."
We can't wait to see and hear about your adventures, about the moose that was "this big," and the time you trekked through snow "this deep." Judges want to see guts, determination and passion for the hunt. They are also looking for involvement in conservation and management, efforts to promote our hunting heritage and community outreach efforts.
Winning is awesome, and here's why: The winner will be whisked off to Las Vegas to accept the Próis Award in front of her industry peers at the 2015 SHOT Show in January. Then in addition to the trip to Africa, Próis will fully outfit the winner with the latest in hunting clothes, gear and accessories from top equipment manufacturers sponsoring the contest.
Submissions for the annual contest to name the most committed female hunter of the year are accepted until midnight on October 18, 2014. For full contest rules and to enter the Próis Awards go to: www.proishunting.com/proisaward. Essays and photos are reviewed by our panel of industry expert judges. The top six finalists will be announced on November 3, 2014. Finalists will be asked to submit a short video answering judges questions. Video clips will be available online for public viewing on November 24, 2014. The final winner will be announced December 15, 2014. There is no online voting component to this year's contest as in years past. Winner will be determined solely by judging scores.
2014 Próis Award sponsors include:Próis Hunting & Field Apparel, Swarovski Optiks, Bowtech, Weatherby, Badlands Packs, Zamberlan Boots, Buck Knives, Skullhooker, Hunter Hills Journals, Acli-Mate, Icebreaker, Shoot Like a Girl, Incredisocks, Grubs, Otis Technologies, Montana Decoy, Wac 'Em Broadheads, Buck Wear and more!
The Próis Awards panel of industry expert judges includes: Twin Olympians Tracy and Lanny Barnes; Craig Boddington, Outdoor Writer & TV Host; Diana Rupp, Editor-in-Chief of Sports Afield Magazine; Guy Eastman, Publisher of Eastman's Hunting Journal; Julie Golob, Captain of the Smith & Wesson Shooting Team; Ron Spomer, Writer, Wildlife Photographer & TV host; 2011 Próis Award Winner Andrea Fisher; 2012 Próis Award Winner Ruth Cusack and 2013 Próis Award Winner Rachel Ahtila.
For more information about the 2014 Próis Awards or to learn more about the company's innovative line of serious, high-performance huntwear for real women, contact: Próis Hunting and Field Apparel, 28001-B US Highway 50, Gunnison, CO 81230 · (970) 641-3355 · Or visit: www.proishunting.com