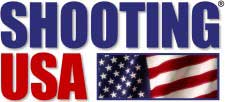 USA – -(Ammoland.com)- Shooting USA – International Revolver Championship 2014
We're covering the annual championships for wheel guns and their fans, with the top revolver shooters at the Hogue Range in California. Plus, a profile of the only man to win two gold medals in his Olympic sport. Vincent Hancock is now teaching and training for another gold in International Skeet.
Shooting USA's Impossible Shots – The Best of Speed Rifle
Smith & Wesson Pro Jerry Miculek loves getting new guns. This time Jerry's picked up a M&P 15-22 and breaks it in the only way he can, with blistering speed and incredible accuracy. Plus, Fast Draw Champion Cisko just wants to shoot like everyone else on the Impossible Shots Pro Team, so he dumps the wax bullets to load up with live ammo. It's fast-draw action with flying lead.
AIR TIMES BY TIME ZONE
The Shooting USA Hour Wednesdays:
Eastern Time: 3:30PM, 9:00PM, 12:00 Midnight
Central Time: 2:30 PM, 8:00 PM, 11:00 PM
Mountain Time: 1:30 PM, 7:00 PM, 10:00 PM
Pacific Time: 12:30PM, 6:00 PM, 9:00 PM

Shooting USA is listed as a one hour show in your cable menu.
Shooting USA's Impossible Shots
Eastern Time: 11:00 AM, 7:00 PM, 2:00AM Thurs
Central Time: 10:00 AM, 6:00 PM, 1:00AM Thurs
Mountain Time: 9:00 AM, 5:00 PM, 12:00AM
Pacific Time: 8:00 AM, 4:00 PM, 11:00PM
Wrapping & Writing:
We're in the Gun Room this week to tape a new show – The Bushnell Long Range Rifle Match. And, the producers are writing new stories on The USPSA Handgun Nationals, The IDPA Nationals, and The IPSC World Shoot. You'll see it all in the coming weeks!
Jim Defending the 2nd by Example in the 21st Year
www.ShootingUSA.com