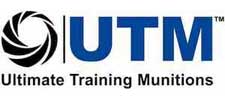 USA –-(Ammoland.com)- Through UTM RBT's experience of working with Elite Special Forces, Militaries and Law Enforcement Agencies around the world, an integrated system of the most effective methodologies and best practices has been created and specifically designed to be easily adaptable and utilized throughout the training cycle -­ from marksmanship fundamentals to the advanced skills needed in a dynamic environment with stress inoculation.
The UTM RBT system allows for cross discipline training, such as integrating firearms with Non-Lethal Training Ammunition into combatives and tactics training, to maximize the effectiveness of the overall program -­ the only fully comprehensive system on the market to offer a complete and effective training solution.
The field tested and proven training methodologies and products within the UTM Reality Based Training System are the most effective, immersive and environmentally friendly in the industry -­ far beyond "just another course" or "training product".
This system offers an integrated solution and mindset, where industry professionals can train as never before -­ revolutionizing and redefining the industry.
The training system will be on display and demonstrations will be given throughout the Conference and Exhibition.
Participants are encouraged to come by the booth and ask for a hands on demonstration and explanation of the system and all of its components and applications. For more details visit the website at www.utmworldwide.com.