Ammo Nation, Inc. launches website for consumers to acquire ammunition direct from manufacturers at unbelievable prices!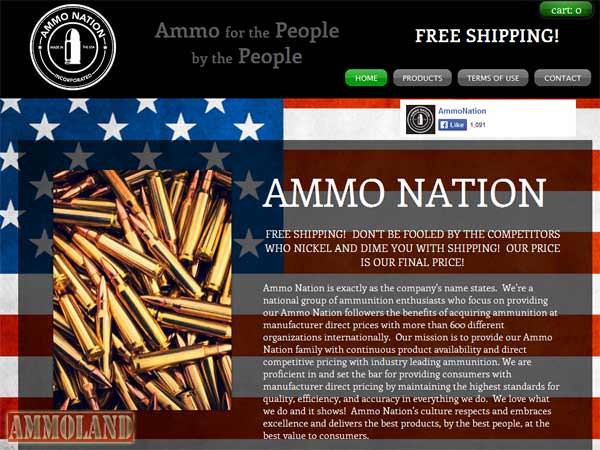 HAYDEN, ID –-(Ammoland.com)-  MANUFACTURER DIRECT PRICING & FREE SHIPPING!   Ammo Nation Inc, launches new web store at www.ammonationinc.com .
This state of the art webpage is offering high quality "New" and "Re-Manufactured" ammunition products, components, and accessories in bulk quantities, without purchase limits, direct to consumers, at unbelievable prices.
Free Shipping! – Yes you read that correctly…  Ammo Nation's unbelievable prices include the shipping of any size order directly to your doorstep.  Don't be fooled by other ammunition web-store websites that solicit low prices then nickel and dime you with shipping costs.  Ammo Nation new website now provides the public and the ammunition community with what they deserve, which is full transparency of costs, from the best manufactures, providing innovative technology, extensive quality assurance and warranty, in endless supply, at industry leading prices.
"We are Ammo! – We offer our customers peace of mind by having the best people, delivering the best products, at the best price!" says Sean HenryJonathan Kersey, Chief Executive Officer, Ammo Nation, Inc.

"Our mission is to provide our Ammo Nation family with continuous product availability, with industry leading ammunition, at affordable prices." says Jonathan KerseySean Henry, Chief Technology & Operations Officer, Ammo Nation, Inc.
A couple of Ammo Nation's leading product offerings include PNW Arms award winning and signature 300 Blackout round in a variety of loads, which can be also be fired from an AR platform and a line of high capacity rimfire magazines and associated accessories from HC Mags, fit specially for the Ruger 10-22 rifles, with incredibly fast reloads without having to push a single round into the top of the magazine.
"We have all the resources necessary and are servicing a broad range of the national shooting community and individual ammunition enthusiast and sportsmen." says Nick Henry, Director of Sales, Ammo Nation, Inc.
Ammo Nation is leading the way consumers are educated about products, pricing, and availability.  It is easy to see why many customers love their products and have selected them as the company to acquire their ammunition from.
About Ammo Nation, Inc.
Ammo Nation™ is exactly as the company's name states.  We're a global leader in distributing "New" and "Re-Manufactured" ammunition components, accessories, and products direct from manufacturers to consumers.  We pride ourselves in providing Ammo for the People by the People.  We're a northwest company with a national reach and a mission to deliver on doing what we say we're going to do.  We provide our Ammo Nation family with transparency, continuous product availability, and quality assurance of industry leading ammunition.
Tel:  877-577-2910
Fax:  509-209-9089