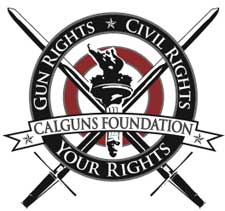 California –-(Ammoland.com)- Will Californians soon be able to enjoy a real Second Amendment right to keep and bear arms, or will our fundamental rights continue to be infringed by state and local gun control laws?
Watch — and support — these five CGF supported pro-gun lawsuits to find out.
1. Jeff Silvester v. Attorney General Kamala Harris
10-Day Waiting Period
What it is: Federal Second Amendment challenge to California's 10-day waiting period (as applied to law-abiding gun licensees/known gun owners).
Where it's at: Plaintiffs (including CGF) won the case at the trial court. Defendant California Attorney General Kamala Harris has appealed her loss to the Ninth Circuit Court of Appeals. However, before the case proceeds at the Ninth Circuit, Senior District Court Judge Ishii must first rule on two pending motions by Harris. (One to extend the time DOJ has to comply with the order from 6 months to 12 months, and another to stay the order pending the Ninth Circuit's resolution of the appeal.)
Next step: Defendant's motions have been briefed by both sides and both motions will be decided by Judge Ishii, we expect soon. After he rules on those, the case will continue on appeal at the Ninth Circuit.
Bottom line: At the end of this case, either the Ninth Circuit or the U.S. Supreme Court will decide what "infringe" means in the context of laws that severely burden, but do not necessarily outright ban, the exercise of core Second Amendment rights by law-abiding people.
Donate & Support Silvester v. Harris
2. Ivan Peña v. DOJ Bureau of Firearms Chief Stephen Lindley
Handgun Roster
What it is: Federal Second Amendment challenge to California's handgun "roster" and microstamping requirements.
Where it's at: On October 2, plaintiffs (including CGF) filed a notice of supplemental authority with the district court, pointing out the winning decision in Silvester v. Harris. Previously, both sides filed supplemental briefing on July 7 per the court's order. Both sides have moved for summary judgement, and all mandatory and supplemental briefing ordered by the court has been submitted.
Next step: Awaiting decision by Federal District Court Judge Kimberly J. Mueller.
Bottom line: Are gun control laws — like California's handgun "roster" and microstamping requirements — that limit access to arms in common use for lawful purposes unconstitutional? We think so, and this case will provide us with the answer from the courts.
Donate & Support Peña v. Lindley
3. John Doe v. Attorney General Kamala Harris
DOJ Over-Reach
What it is: State law challenge to CA DOJ's enforcement practice of denying a "1-in-30" handgun purchase limit exemptions to gun buyers that possess both a Certificate of Eligibility (COE) and ATF FFL03 ("Curio and Relic") license.
Where it's at: Plaintiffs are conducting limited discovery. Following that, the case will move forward on motions.
Next step: Completion of discovery and filing of motion(s).
Bottom line: Can state agencies like the DOJ make up policies as they go, especially when those policies directly conflict with the express written text of the statutes? And, even if they somehow could, did DOJ's rulemaking follow the Administrative Procedures Act? We think not.
Donate & Support Doe v. Harris
4. Roy Vargas v. Los Angeles Sheriff John Scott (Lu v. Baca)
CCW "Pre-Application" Policies
What it is: State law challenge to Los Angeles County Sheriff's Department policies and practices that require carry license ("CCW") applicants to pay costs, complete additional forms, and face additional time delays beyond what is allowed under the Penal Code.
Where it's at: CGF won at the trial court, but Los Angeles has appealed. Their opening brief is expected to be filed at the Second District Court of Appeal for the by the end of November.
Next step: Briefing by both sides at the Court of Appeal must be completed and then a hearing date will be set for oral arguments, which should take place sometime in 2015.
Bottom line: Can carry license issuing authorities require applicants to jump through unnecessary, burdensome hoops and comply with restrictive rules that go beyond the system established by the Legislature? We think the state law is quite clear here, but Los Angeles (and others) think they can get away with such behavior. Notably, published Court of Appeal decisions are binding on all trial courts throughout the state; unless the California Supreme Court (or another district of the Court of Appeal in a different case) decides to weigh in, this case should resolve some of the "pre-application" problems faced by Californians who want to exercise their right to bear arms for self-defense in public with loaded, operable handguns.
Donate & Support Vargas v. Scott / Lu v. Baca
5. Adam Richards v. Yolo County Sheriff Ed Prieto
Self-Defense as "Good Cause" for CCW
What it is: Federal Second Amendment challenge to Yolo County Sheriff Ed Prieto's application of a "heightened good cause" standard for carry license ("CCW") applicants.
Where it's at: Following the Ninth Circuit's Peruta v. Gore decision this past February, the same panel of Ninth Circuit judges ruled that the Richards plaintiffs (including CGF) prevailed on the same grounds against Yolo County's practice of requiring more than "self-defense" for the "good cause" requirement.
Next step: The Ninth Circuit has a few things on its plate. First, a number of parties, including Attorney General Kamala Harris, asked the Court for permission to intervene in the Peruta case. Harris also requested that the Ninth Circuit either rehear the case with the same 3-judge panel or rehear the case en banc (before a full 11-judge panel). Even if the court decides to allow some or all of the requesting parties to intervene, they'll then consider and decide on the requests for rehearing — which still might be denied. Adding further complexity to the "what's next?" analysis, the Attorney General has also told the Court that she intends to try and intervene in Richards if the case is selected for en banc rehearing with (or instead of) Peruta.
Bottom line: The Ninth Circuit's Peruta decision got it right, just as it did when it correctly decided Richards. However, even if the decisions 'stick' here in the Ninth Circuit, the Supreme Court will ultimately need to weigh in and resolve the right to bear arms in the context of subjective and discretionary regulatory schemes like California's "good cause" and "good moral character" requirements that are enforced by sheriffs and municipal police chiefs. Otherwise, large segments of the United States (including residents of highly populated states like New Jersey, New York, and Maryland) will continue to go disenfranchised of their right to carry for self-defense while others, including residents of California, will have access to at least some manner by which to exercise the right.
Donate & Support Richards v. Prieto
In Case You Missed It:
California Gun Owner Defended by CGF Not Guilty of Federal Conspiracy Charge
"…a federal jury in Sacramento found gun owner Ulysses S. Grant Early IV not guilty of conspiracy to make a false statement on a federal a firearm record known as an ATF Form 4473. The lengthy criminal trial, which lasted four weeks, successfully concluded for Early after more than two days of jury deliberations and two years of legal wrangling.

Early was represented by civil rights attorney Donald Kilmer of San Jose. The Calguns Foundation, a gun rights group based in Roseville, provided resources and support for his legal defense…"
Help us defend other California gun owners — make a tax-deductible donation of $10, $25, or whatever you can afford.
The Calguns Foundation (www.calgunsfoundation.org) is a 501(c)3 non-profit organization that serves its members, supporters, and the public through educational, cultural, and judicial efforts to defend and advance Second Amendment and related civil rights.