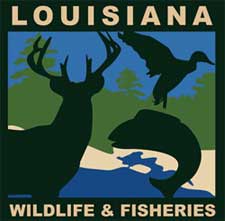 Abbeville, LA -(Ammoland.com)- Guy Crittenden of Richmond, Va., took first place in the 2015 Louisiana Waterfowl Conservation Stamp competition sponsored by the Louisiana Department of Wildlife and Fisheries (LDWF).
The contest determines the image to be used on what is commonly known as the Louisiana Duck Stamp. Crittenden, who has placed second in the last two competitions, beat out 19 other competitors and was recognized at the Louisiana Wildlife and Fisheries Commission's Nov. 6 meeting as the 2015 winner.
Jeffery Klinefelter, of Etna Green, Ind., the winner of the 2012 and 2008 contests, took second place, and Dale Pousson of Egan, La., who won the contest in 2003 and placed third last year, took third place again this year. Last year, Tony Bernard of Lafayette, La., won this contest.
Crittenden grew up hunting and fishing on the Chesapeake Bay in Gloucester, Va. He attended William and Mary College on a full football scholarship and after graduating, attended the Art Institute of Atlanta and earned an Associate Degree in Arts. He worked for advertising agencies for several years before opening Crittenden Studio in the early 1990's. His photography and digital art have since gained national recognition as have his wildlife paintings. He has won the Virginia Migratory Waterfowl Stamp competition four times, has consistently placed in the top 10 at the Federal Duck Stamp competition, and is experiencing a tremendous year in 2014.
Along with winning in Louisiana, Guy has also won Duck Stamp competitions in Connecticut, Michigan, and Oklahoma this year.
"I am thrilled," Guy said when notified of his victory, "the competition in Louisiana each year is very strong, and this is one of the top honors in my artistic career."

"The Department continues to be impressed with the number of high-quality entries," said LDWF Waterfowl Study Leader Larry Reynolds. "We had some concerns when artists were restricted to painting Blue-winged teal after five years of open contests where they were free to choose any species known to winter in Louisiana."
Crittenden's painting combined outstanding contrast with a classic Louisiana background reminiscent of the first Louisiana Duck Stamp.
"Bluewings are an important species in the bags of Louisiana duck hunters," Reynolds said, "and the winning design will make an outstanding stamp."
The Louisiana Waterfowl Conservation Stamp program was established in 1988 by the Louisiana Legislature to generate revenue for conservation and enhancement of state wetlands, benefitting migratory waterfowl overwintering in Louisiana. This program has generated over $12 million for wetland conservation in Louisiana since 1989, with over $472,000 from last year's stamp/license sales alone.
The 2015 stamp, featuring Crittenden's work, is expected to go on sale June 1, 2015. The artist will retain the original artwork and will have reproduction rights to the image for prints and other commodities after LDWF has used the image to produce the stamps.
Judges for the competition were Dr. Luke Laborde, Dr. Jim Bergan, Randy Caminita, Tony Bernard, and Michael Patterson. Dr. Laborde is a Research Associate and Instructor at LSU's School of Renewable Natural Resources; Dr. Bergan is the Director of Freshwater and Wetland Conservation at The Nature Conservancy; Caminita is a professional wildlife artist from Folsom, Louisiana who has competed in this contest many times; Bernard is the 2007 and 2014 contest winner from Lafayette, Louisiana; and Patterson is a Financial Planner for Lee, Dougherty, and Ferrara Investment Management and is the current State Chairman for Ducks Unlimited.
About the Louisiana Department of Wildlife and Fisheries (LDWF)
The Department of Wildlife and Fisheries is charged with managing and protecting Louisiana's abundant natural resources.