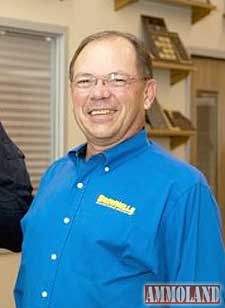 Des Moines, Iowa – -(Ammoland.com)- Recently, some of our gang traveled down to Little Rock, Arkansas, for the annual National Association of Sporting Goods Wholesalers meeting and expo ‒ and what a show it was!
America's favorite firearm is still very much the "Black Rifle" – no surprise there! – with AR-15s and accessories for them all over the place at the show.
We also saw signs of some really good deals coming down the pike for AR-15s and other guns.  Even though 2014 is on pace to be the second-best gun sales year ever, the law of supply and demand means some very good buys just in time for the holidays.
Besides guns, guns, and more guns, there's plenty of ammo – except for .22 LR, which still hasn't caught up yet – and magazines, parts, and pieces.  All signs point to NOW as a great time to go shopping!
If your business is working on or selling guns, you'll want to clear your calendar for the 9th Annual Brownells Gunsmith Conference & Career Fair (GCCF) at the Marriott Hotel in downtown Des Moines, Iowa, March 31 and April 1, 2015.  Registration is already open – click on the link above. The event is totally FREE for both exhibitors and attendees.  The GCCF is a unique opportunity for gunsmithing students to rub elbows with some of the biggest names in the industry. You can never tell just who you might wind up chatting with in the hotel lobby, or sitting next to during lunch. If you're an experienced gunsmith, there's a lot for you at this get-together. It's a great chance to hang out with a bunch of like-minded folks for two days and talk about the favorite subject for all of us – guns!
Shooting Matches And Such – Lots of folks have told us how much they liked the Brownells Lady 3-Gun Pro Am Challenge that happened back at the end of October. It was the very first all-women 3-gun match, and it had almost 200 shooters from all over the U.S. plus places like Canada, Australia and even Malaysia.
We've seen a lot of favorable comments on Facebook from shooters who competed and some rave reviews on various online blogs and publications.  Lots of them repeat the same theme: while the competition was intense, there was also a great atmosphere of sharing, teaching, and encouraging each other, all while having a great time!
It'll be wonderful if this event really takes off and becomes an annual thing. It could do all sorts of amazing things for our great shooting tradition.  Lots of industry research shows that women are one of the fastest-growing groups of new shooters.  The more ladies who get into shooting, the better it is for all of us!  And often with them come the kids, who get introduced to the fun of shooting with Mom.
USPSA shooter Eddie Garcia is a good friend of Brownells.  He recently took second place overall in the USPSA Area 2 Championship held near Mesa, Arizona.  He says it was a very challenging match, with lots of stages that were much tougher than they looked at first.  If you'd like to see more about Eddie and some photos of him in action, follow this link right here.
Hunting – It'll be December sooner than we think, and here in Iowa that means one thing.  No, not Christmas – besides Christmas.   It's almost time for shotgun deer season!  Other states have already had or are in the middle of their main deer seasons, and I do hope those of you who got out scored a big one this fall.  We hunt at the tail-end of rut here in Iowa, and there's often a bit of snow on the ground.  But our folks are all gearing up and getting ready to put some venison in the freezer.
Brownells History – I found some interesting stuff going through a box tucked away on a shelf. It was a stack of some sheets of cardstock with strange brownish blobs all over them. Boy, did these bring back memories. They were test blots of ACRAGLAS, along with dad's handwriting giving dates of September 19, 1961, and another from March 13, 1962.  You see when each batch of ACRAGLAS came in back then from the packager, dad always tested from a few separate kits to be sure the mix was just right. I think on these particular sheets he was testing the brown dye we put in the kits as well as the set-up time of the ACRAGLAS. We also laid back a kit from the batch, also dated.  Eventually we changed to a new packager around early 70's I think. Out of this testing came the idea for ACRAGLAS GEL, and all the different additives you could put in it to meet special needs. It's amazing these samples survived intact.
Guess we might need to do a little housekeeping in that part of the warehouse . . .
We first offered ACRAGLAS ( goo.gl/Th8Vn7 ) back in 1955, and the next year, it got a good review in the American Rifleman's Dopebag column.  It's been a mainstay for gunsmiths, custom rifle builders, and handy gun owners ever since.  Just imagine how many rifles out there have been bedded with ACRAGLAS since then.  Wow!
'Tis The Season ‒ Christmas is barely a month away, and it's time to get serious about finding those perfect gifts for family and friends.  If you're reading this WebBench – or a relative or friend "accidentally" left it up on your Ipad or on the computer screen – it's not too hard to figure out what kind of stuff would make great gifts!
Our 30 Days of Thanks event is in full swing.  Please visit our Facebook page to sign up for your chance to win some of the great firearms parts and tools and accessories we're featuring all month long.  For AR-15 fans (. . . and who isn't?), the Back in Black Rifle Event is going strong, too, heading to a big "Black Rifle Friday" grand finale with tons of bargains.  Keep your eye on our Facebook page and Brownells.com on Black Friday and "Cyber Monday", as they call it these days, because we'll be offering smoking-hot deals on all sorts of nifty products ‒ ideal for gifts to someone . . . or maybe yourself.
Some of the latest additions to our lineup would make great gifts or stocking stuffers. For instance the Remington 700 X-Ray Chassis ( http://goo.gl/8Gdzca ) from the Kinetic Research Group is an easy way to turn that old 700 into an up-to-date precision bolt rifle.  Really helps with the accuracy potential, plus looks really sharp!
While the calendar says it's still Autumn for another month, Arctic temperatures and snow on the ground here in Iowa say it's already Winter. Blizzards, ice storms and other wild weather can and will hit unexpectedly. When they do, the Brownells ESG Essentials Blackout Kit ( goo.gl/NrIlh7 ) could be a real life saver, with emergency lights, batteries, and even a programmable weather alert radio ‒ just the stuff you need to ride out a storm-induced power outage.
For the kids in your life, there's just nothing like waking up on Christmas morning and finding a long, rectangular box with your name on it under the tree.  If you do decide to follow a proud American tradition and give a young-un that first BB gun, .22, or even a shotgun for Christmas, be sure to take a lot of pictures of the big smile once the gift wrapping paper is all torn off.  You'll look back on those photos with a warm glow years from now.  Also make sure to take that happy new gun owner out to the Back 40 or the local range, and get even more pictures of him or her taking the very first shots (wearing eye and ear protection, of course).  It's really fun to run across those old pictures – my kids still come over to go through all the albums my late wife carefully put together.
But first, Thanksgiving is next week.  On behalf of our whole gang here at Brownells, Pete and I wish you a happy, blessed Thanksgiving. Amid all the bustle, let's all be sure to take a few moments of quiet time to say a prayer of thanks for our family, friends, all the folks in the military and all the wonderful blessings we have living here in the United States of America.
About:
Founded in 1939, Brownells is an Iowa-based, family-owned company that supplies more than 75,000 firearms parts, accessories, reloading components, gunsmithing tools, and ammunition to armorers, gunsmiths, and shooters worldwide. In addition to their industry leading 100% lifetime guarantee on EVERY product sold, their staff of veteran Gun Techs are available to assist customers with any need – free of charge. There are no minimum order sizes or fees. To place an order, or for more information, call 800-741-0015 or or visit Brownells.com