Second Grocery Chain Stands Its Ground.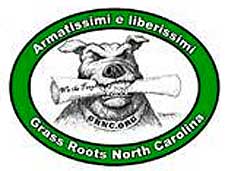 North Carolina –-(Ammoland.com)- Score that: Freedom 2, Bloomberg 0.
That's right, Michael Bloomberg's subsidiary, Moms Demanding Action (MDA) has been told to take a hike by yet another grocery chain after Kroger invited the militant moms to take their bossy ways elsewhere.
So as of now, no chain has posted because of MDA's dishonest tactics. That's right, Bloomberg's Moms are batting exactly zero in North Carolina.
Grass Cannot Grow Without Roots
You see, for all of his billions, there is one thing Michael Bloomberg cannot buy. That is grass roots support. Despite financial sleight of hand aided by a sympathetic media, Moms Demanding Action is simply a well funded shell organization with little if any grass roots support. The Second Amendment, however; has broad and deep support here in the Tar Heel state.
Thank Harris Teeter
CONTACT HARRIS TEETER: Let them know that you appreciate their respecting your lawful rights.
CONTACT INFO
Email: [email protected]
1-800-432-6111, option 2

Harris Teeter Inc.
Attn: Customer Relations
PO Box 10100
Matthews, NC 28106-0100
Lies Told by Moms Demanding Action
Click here to learn the full details of the deceptions spread by the so-called Moms Demanding Action (or rather Moms Demanding Gun Bans).
Additional Skills Needed for the GRNC Alert Team:
A person is needed to expand the GRNC alert team. Good writing skills is a must along with the ability to coordinate with personnel at various levels. Knowledge of HTML and ability to manipulate HTML style emails on the code level. Strong understanding of desktop publishing concepts and Microsoft Office tools. Person should be able to translate legal, political, technical and firearms jargon into layman's terms and make the public care about the issue. Familiarity of a mass emailing system like Constant Contact is a nice to have.
If interested, please contact GRNC via the following e-mail address: [email protected]
About: Grass Roots North Carolina is an all-volunteer organization dedicated to preserving the freedoms guaranteed us by the Bill of Rights. Our main focus is the right to keep and bear arms. GRNC was central to drafting and passing North Carolina's concealed handgun law and since that time has continued to push for improvements to gun laws. Visit:www.grnc.org